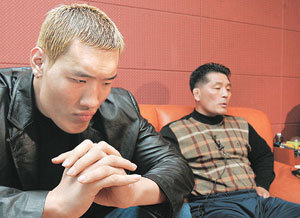 "The contract is not entered yet, but my heart is set on K-1."
"You cannot leave. They are using you. Just think it over."
At the dormitory of LG Investment Securities' Korean wrestling team at Inchang-dong in the city of Guri, where the wrestlers who scattered about after the team was disbanded, the former manager of the team, Cha Kyung-mahn (45), sat face-to-face with Choi Hong-mahn (24), who came back home just a day before after having a talk with FEG (Fighting Entertainment Group), the host of K-1 in Japan, about his debut on the stage of K-1, a fighting sport.
"No contract was made because of some differences about details like the initial payment and the pay per match, but the agent will have a detailed plan when he comes back from Japan this week," Choi said, "The offer from the agent about the K-1 debut that came in a few months before was quite tempting with the future of the wrestling team being uncertain and all."
The manager, Cha Kyung-mahn, raised his voice saying, "What about those 15 other team members waiting for the kick-off of the new team with you being one of the leading members? I understand how anxious you might feel, but do think it over."
"Is hasn't been said that some players in some other game enjoy millions of dollars in pay while we wrestlers lose our team no matter how strongly we fight against it?" "But it is still no reason for you, the girder of Korean wrestling, to go into fighting."
The talk between Manager Cha and Choi ran the parallel against one another. The manager's inspiration is to continue the tradition of the LG wrestling team with a new host. Choi's heart, however, has lost any affection it had for wrestling, though he is sincerely sorry to leave his seniors and juniors. Other wrestlers remained silent at Cha and Choi's brawl.
Manager Cha is also anguished about something else. It is that Choi, who has trained for Korean wrestling all his life, will have a hard time adjusting to K-1 even with a few months of training. He is worried that when a Korean wrestling champion gets pounded on the mat, it will be a disgrace not only for Korean wrestling but for Korea's sporting community as well. Japan's sumo wrestler Akebono from Yokozuna also switched over to K-1, but he has yet to win a game.
Choi Hong-mahn, however, holds a stiffened face even after the meeting. He spills his real thoughts saying, "I want to be playing for loads of audiences and earn some money at a new stage such as K-1." "We agreed on a two-year contract with six games for fight money of 200 million won, but the contract is not yet signed because they did not accept our request for a billion won in initial payment."
"You can never be successful in K-1. Think hard and carefully."
Turning his back on Manager Cha's heated rage, Choi Hong-man disappears into his room. He said, "I will let you know of my final decision after thinking it over when I get back to Busan tonight," before shutting his door behind. The meeting was nothing less than a gloomy landscape of today's Korean wrestling.
Soon-Il Kwon stt77@donga.com