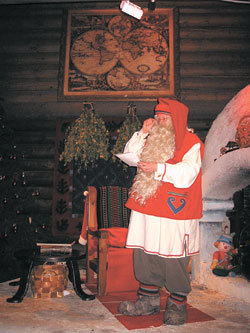 Performances and exhibitions for children are knocking on doors: Santa Claus' village where children can meet a Santa Claus in person, a magic concert, a mega-bubble show, and a science experience exhibition.
As the year approaches an end, the shows and exhibitions targeting children are in their prime peak. Dong-A Ilbo researched shows for children who are especially not familiar with watching performances or who are too little to sit for long hours.
"The Santa Village" and "The Kingdom of Santa"-
"Is there really a Santa Claus?"
Nowadays, children, who are too knowledgeable, begin to doubt the existence of Santa Clause as early as primary school. Two exhibitions themed with Santa Claus are worthwhile to bring your children who are dubious to the existence of Santa Claus: "the Santa Village" at the Atlantic Hall, COEX, Samseong-dong, Seoul and "the Kingdom of Santa" being held in Il-san, Goyang, Gyeonggi-do.
The exhibition, "the Santa Village" has moved Santa Claus' house from Romaniemi, a famous tourist spot in the Santa Claus Village in northern Finland. If you get into Santa Claus' office at the exhibition, you can see a thick address book that has children's names and addresses. Also, children can meet the official big Santa Claus, two meters tall, working at his office.
The show "the Kingdom of Santa Clause," being held at the flower exhibition hall, Lake Park in Il-san, offers wide variety such as kids' entertainment facilities, exhibitions, and a short performance. The size of the show is bigger than "the Santa Village." Children can mail postcards to Santa Claus at the Santa Claus post office and tour the "toy factory" where Santa Claus gives presents to children. About 30 Russian Santa Clauses are welcoming children with their big hearts.
"Bubble Christmas" and "Choi Hyun-woo's Magic Concert"-
Is there any stronger method than magic for capturing kids' hearts?
The "Bubble Magic Show," being held at the Little Angels Arts Center, Neung-dong, Seoul, is a show using bubbles, which almost every kid might have played with. Canadian bubble artist Pen Yang has visited Korea to meet Korean audiences. The highlights of the show are a mega-bubble wall encircling 20 people at a time, and a bubble technique making a child trapped in a bubble. Also, it entertains children by creating and sending millions of bubbles to the audience seats accompanying a laser show.
"Choi Hyun-woo's Magic Concert" at the grand conference room of COEX, Seoul is attracting an older generation than "the magic bubble show." The main audience for this show is young couples in their 20s. The magic show presents variety of magic about "love." However, primary school students can enjoy and understand the show. The show host Choi Hyun-woo has gained popularity through the SBS drama "Magic" that he appeared in.
San Francisco Science-Experience Exhibition-
This exhibition aims to help children realize the principles of science by touching and operating the exhibits by themselves. A total of 70 science exhibits are in display at the COEX exhibition hall, which are from the world-famous Exploratorium science museum in San Francisco, which boasts 600 hands-on science exhibits. As children have fun with these unfamiliar exhibits, they can get closer to science. Plenty of entertaining exhibits are awaiting children such as a silver plated mirror which can be a mirror as well as a window, and disappearing glass sticks.
Sue-Jean Kang sjkang@donga.com