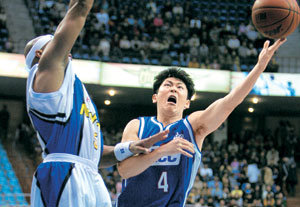 The Orions shook off the "Rivalry Jinx" by defeating TG Sambo for the first time in 22 months.
In the 2004-2005 Anycall Pro Basketball regular season match up between the Orions and TG on December 12, the Orions beat TG Sambo 89-81 with the help of Nate Johnson`s 24 points and 11 rebounds.
The Orions, who were down after two straight losses following a winless record last year after six losses, just escaped from an eight-game losing streak, which would have been 10 including the playoffs.
The Orions, leading 67-57 in the third quarter, allowed TG`s comeback with Yang Kyung-min's (14 points) three-pointers early in the fourth quarter as TG reversed the game 71-73 with four minutes and 38 seconds remaining before the final buzzer. Johnson who came forth as the problem solver in the crucial moments, added a point by a free throw and poured in two consecutive three pointers and turned the match over.
Orions' substitute center Lee Eun-ho came off the bench after being given a surprising start and tallied 14 points and seven rebounds in 35 minutes and contributed service above expectations. Also, Kim Seung-hyun recorded 12 points and seven assists, and Robert Jackson earned 18 points and 12 rebounds, including seven points in the fourth quarter.
In the Jamsil Stadium, Samsung edged KCC 81-73, which gave them a dreadful 34-point defeat and ended its three game consecutive losing streaks. KCC`s computer guard Lee Sang-min recorded 10 assists in the day's prior game against Electronic Land and broke the total assist record (2,202 assists) held by LG coach Kang Dong-hee.
Chang Jeon Jong-Seok Kim jeon@donga.com kjs0123@donga.com