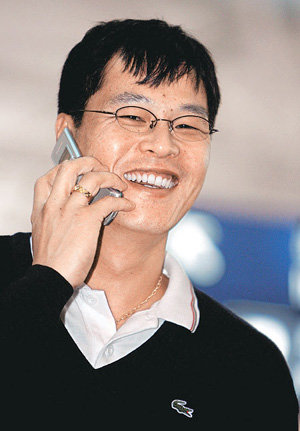 The 35-year-old Goo Dae-seong will be wearing Yankee pinstripes next season.
Douglas Jo (Jo Dong-yoon), Goo's agent, commented in a phone interview with Dong-a Ilbo on December 9 and said "We agreed in principle with the Yankees for the signing. We can't clarify the conditions and the volume of the contract in details, but it soon will be announced officially. We're estimating the sum of $3 million over 2 years (almost 3 billion won).
Agent Jo, who came forth for the agreement with advising lawyer Park Jong-pil, drew up an agreement through two hours of negotiations with Yankee's vice-president Mark Newman and scout John Cox, who is in charge of the far east, on December 8-9 in Tampa, Florida which is the spring camp of the Yankees.
But the official announcement has been postponed when the Yankees put aside the issue on whether or not to accept the request on one condition that was presented from Goo's party. Jo commented "We have met an agreement with the team regardless of the accepting conditions which we have presented, and Goo himself responded with satisfaction with the numbers they offered."
As for this, Goo Dae-seong became the first Korean player ever to enter the most prestigious team in the Major Leagues, the home of 26 championships. Also, after the retired Lee Sang-hoon, he became the second player to extend his footsteps in all three-baseball leagues of Korea, Japan and the United States.
According to Jo, the 2000 Sydney Olympics happened to become the starting point when the Yankees kept an eye on Goo. At the time, scout Cox had been captivated by Goo's performance. In the match up with the Japanese team, which was consisted the most pro, Goo Dae-seong left batters stranded with three loss points in the preliminary game, and notched a complete game in the third and fourth place match ups, allowing five hits and one loss.
Goo ended his career in the Japanese League with unsatisfactory numbers of 24 wins and 34 losses, five wins and 10 losses this year, and an ERA of 4.39, but the Yankees evaluated Goo to be an effective pitcher against lefty batters since he steps to the mound while covering the ball behind his back. Jo said, "The Yankees hopes Goo will handle lefty batters such as Boston's David Ortiz."
The Yankees, who have a weak bullpen of lefties, are concentrating on reinforcing their left-handed pitching. Goo Dae-seong, who started for his team in Japan, is viewed to fit the reliever position. This year, Goo received a single-year contract of 110 million yen (1.1 billion won) from the Orix Bluewaves of Japan.
Sang-Soo Kim ssoo@donga.com