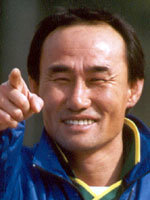 "I'll shed the word 'acting' from my title with a victory at the FA Cup."
Acting coach Kim Hak-bum did not answer his cell phone. Why? Kim is provisionally at the helm of Seongnam Ilhwa, a Korean professional soccer team, after former coach Cha Kyung-bok abruptly resigned from his post.
Kim assumed the post of acting coach on December 1 when former coach Cha left the team right after the soccer team was defeated by Al-Ittihad of Saudi Arabia in the second game in the final match of Asian Football Confederation (AFC) Champions League. But the team owner proposed Kim to make a contract for the coach job after the Football Association (FA) Cup starting December 14. That means that Kim can or cannot shed the word "acting" from his title, depending on the result of the game.
For this reason, acting coach Kim is busy training his players, shunning contact with the outside world. Even though he is not happy with the team's policy to "decide after FA Cup," he is showing his determination to get evaluated based on his ability.
However, the soccer team is not in good condition. The team yielded good results in many games this year, such as the championship in the A3 Cup, K-League Cup and the runner-up in AFC Champions League. But the problem is that leading players in the team are suffering from accumulated fatigue after going though a hectic schedule of 49 games. The team owner, for his part, would take the situation as a good setting to evaluate Kim's risk-management ability.
It is fair to say that acting coach Kim has actually been serving as the coach of the Seongnam team. Kim first joined the coaching staff in the fall of 1998, together with former coach Cha. Afterward, he contributed much to the team's good performance, taking the team to the top in the K-League for three years in a row from 2001.
He is well known as an "academic leader" who broadened his understanding of advanced soccer play while assisting Anatoli Byshovets for the Korean national team in the 1996 Atlanta Olympics. He has been thought to be a "post-Cha Kyung-bok" from long ago, as he has served as the brain of the coaching staff of Seongnam, combining the knowledge he earned from his overseas study with tactics in real games. He has a good knowledge of advanced soccer play by studying in many countries which have strong national soccer teams like Spain, Italy, the Netherlands, Germany and Brazil, every year-end since 1999.
Jong-Koo Yang yjongk@donga.com