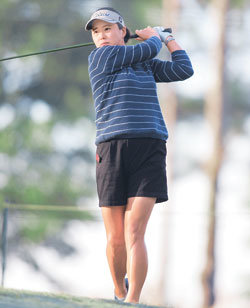 No popular sponsors. Winning? Never dreamed of it.
A series of drop offs from cut-offs and motel living. But, she says she is still happy. "I now feel I know what golf is," said Jeong Il-mee (32), who regained her tour card by finishing twelfth at LPGA tour Qualifying School (one under par 359) on Monday.
Jeong finally debuted on the LPGA Tour late this year, but failed to finish within the top 90 ranks for prize money, which made her play in the Qualifying School. "I was under stress for the worry that I might fail, but last year's tour experience in the U.S. has been a great help in passing," Jeong said happily in her telephone interview Monday.
Jeong is one of the top female golfers in Korea, having the largest prize money purse for two consecutive years (1999-2000) in the KLPGA. Putting that aside, she has decided to walk a "rocky path" to play on a larger stage.
Last year, she was ranked 17th at the LPGA tour Qualifying School, receiving a full seed for 2004. Success seemed at arm`s length, but the reality was harsh. When asked about her record this year, she said that she didn't even want to think about it.
So, I searched it, and it shows that she has dropped 18 cut-offs in 23 tournaments and not once was she mentioned as being one of the top 10. Her best score was a 42nd joint ranking.
Her ranking on the list of prize money winners is 152nd out of 193 players, making only $14,648 (or \15,000,000), far less than that of 2003 (43,230,000) in Korea.
It is inevitable that her spending is more than her earning. She can't even afford a full-time caddy, and she wanders looking for cheaper motels with her road manager to save expenses. "I can take foods foreign to my tongue, but the communication problem is always difficult to solve. And, moving right after the tour is the most hard," she said.
When asked about the reason of her technical failures, she pointed out her failure to adopt the field grass itself. "Grasses are different on every field. Bermuda grass, Kentucky blue grass, Bent grass, and so on. Setting the course itself was very difficult, too."
Since she was one of the early golfers who started to play in the U.S., she found her pride hurt pretty seriously. Though the season is over, she said she would not plan to go back like this, and she already made a plan for winter training in the U.S. Her parents urge her to get married, but she has never been interested.
"I don't know what other people think, but I believe coming to the U.S. was the right decision. I feel like I am getting to know golf all over again here. Only the time what I'm concerned now. I am full of potential, and I believe living doing what I want to do really counts," she said.
Sang-Soo Kim ssoo@donga.com