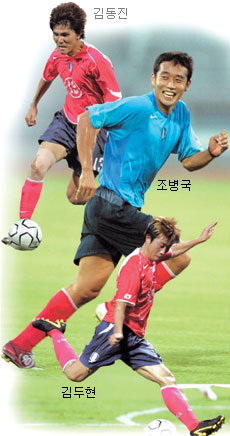 "The first young blood to substitute in the national team is Jo Byung-kuk."
In order to recover the prestige of the Korean national soccer team, which has been trampled since the 2002 World Cup, reconstructing the defense seems to be the most imminent task as Jo Byung-kuk (23, Suwon Samsung) had been pointed out to be the key player to replace the center defense position, which is the core of the issue.
This fact has been revealed based upon research by Dong-A Ilbo done by nine soccer experts on the subject of the necessity of changing generations via telephone surveys. The soccer experts who participated in the survey were two ex-national team coaching staffers (Huh Jung-moo [Yongin FC coach] and Choi Jin-han, ex-coach), coaches of three pro-teams (Kim Jung-nam [Ulsan Hyundai coach], Jo Kwang-rae [FC Seoul coach] and Choi Soon-ho [Pohang Stealers coach]), and four commentators (Lee Yong-Soo, KBS commentator, Kang Shin-Woo, Shin Moon-seon [SBS commentators], and Kim Joo-seong, MBC commentator).
The commentators shared similar opinions that the most urgent task for the national team is building stability through changing generations in the defense, which is estimated to happen in field training in the United States next January, implying the change of generation should be completed before the final preliminary round which kicks off in February.
The main axis for the national team's defense line is led by players in their 30's, including Yoo Sang-cheol (34, Yokohama), Choi Jin-cheol (33, Jeonbuk) and Kim Tae-young (34, Jeonnam). Commentator Lee Yong-soo commented, "If ex-coach Gus Hiddink were still in a commanding position, he would have swapped players after the 2002 World Cup. Currently active players in other positions still possess great skills, but the defense is getting old."
Opinions hinted that the faster the change in defense, the better for the team. Commentator Kim Joo-seong said, "Teamwork is important in defense, and teamwork isn't accomplished in a day," and added, "We need to appoint a player with strong spirit immediately."
The three factors needed for a center defender are height over 185cm, speed, and fighting spirit, and Jo Byung-kuk comes close to fulfilling all these conditions. Coach Kim Jung-nam, commentators Kim Joo-sung, and Shin Moon-sun assessed Jo by saying "Jo Byung-kuk is the most suited to replace Hong Myung-bo." Jo Byung-kuk, with a 183cm, 78kg stature, is not only packed with speed and fighting spirit, which is essential for a defender, but also holds great jumping ability as a versatile player who aggressively takes part in offense.
Experts also mentioned the left footed offensive power of Kim Dong-jin (22, Seoul), Kim Chi-gon (21, Seoul), who has header ability and man-to-man skills, and Park Jae-hong (26, Chunbuk), who is strong in body checking, as future promising defenders.
Meanwhile, Jo Jae-jin (23,S-pulse) and Park Joo-young (19, Korea University) were counted as the main portion of the change of generations among the strikers, and Kim Jung-woo (22, Ulsan) was appointed among the midfielders. Experts pointed out, "Currently, we have the best line-up in midfielders and strikers. The lack of goal scoring ability, which is a concern, should be resolved via the coach applying additional tactics."