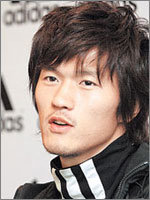 "Thanks to the Korean wave, my life in Japan got much easier," says Cho Jae-jin, a 23-year-old striker who was traded from the Samsung Blue Wings to Shimizu S-Pulse in Japan's professional league (J-League) in the middle of this season. Cho had a fairly successful season in Japan, scoring seven goals in 12 games. Cho, who arrived in Korea on November 29, seemed quite elated in a press conference held in Novotel Ambassador Gangnam in Seoul on December 1.
"This year was very meaningful for me. I got to play in the J-League, which is a springboard for inroads into the international leagues, and led the Korean national team to the quarterfinals in the Athens Olympic Games. Especially, when I was given the spotlight after scoring a goal in the Olympics, I thought it was a dream," said Cho.
"I thought it would take quite a long time for me to adjust to the J-League, but I somehow did so quickly and was able to produce good results," said Cho. "I think it was because the atmosphere and environment for soccer were better in Japan than in Korea," Cho added.
The Korean wave also helped him adapting to a new environment. Fellow players first showed intimacy and approached him, imitating the lines of Korean soap opera "Winter Sonata" in Korean. Also, fans had warm attitudes towards Korean players, so when the training session was over, over 200 fans came to Cho and asked for his autograph.
Cho said that his goal for next season is to become a top scorer in the J-League. "No matter how popular you are, professionals should prove themselves through competency and results," he said. "When I was first selected to the Korean national team, I felt constraint in the presence of my seniors. However, I think I can play more boldly from now on. After all, it's all about the survival of the fittest," said Cho. He said that he aims to become a starting member of the national team in the final round of the regional preliminaries for the 2006 World Cup in Germany, and play a great game in the 2006 World Cup. "After the World Cup? I want to go to England's Premier League," said Cho.
Jong-Koo Yoon yjongk@donga.com