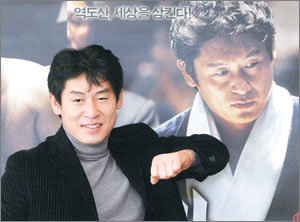 - How did you interpret the character of Rikidozan?
"I didn't study the character in advance. In my case, a thorough study of a character in advance hinders my acting. In the movie, I am not trying to reproduce Rikidozan exactly. If that was my goal, I would have rather opted to film a documentary about him. I didn't want to mimic Rikidozan. Instead, I wanted to portray a new Rikidozan by using what I have in myself."
- Then, what is your own concept of Rikidozan?
"My Rikidozan is a mean guy. I mean, he moved to Japan at 16, and was somewhat forced to be mean to survive in the country. Yet, I don't intend to blame him for being a schemer. I wondered throughout filming whether Rikidozan had been a happy or an ill-fated person."
- I see that 97 percent of the lines in the movie are spoken in Japanese…
"During the first three months of filming, I learned Japanese from a private tutor twice a week. Yet, my Japanese was so poor that I couldn't even know whether I did it right when I practiced reading lines with Japanese actors. (laugh) In fact, those Japanese counterparts tutored me in the language. When the shooting started, however, I didn't turn to any help. That was because I thought that only trying to speak like Japanese would not portray my true self. So, I had someone record a Japanese news anchor's reading of my script. And I listened to the tape the day before shooting. On the shooting day, I just let myself go as I liked. I just tried to express my emotions. I didn't want to miss them. Luckily, Japanese staff members told me I sounded like a Japanese as time went by."
- You must have suffered a lot as you didn't get to use a substitute for the wrestling scenes.
"When I acted those scenes, I became very emotionally sensitive since it really hurt me a lot. When big-framed Japanese wrestlers knocked me down to the ground, it hurt me so much that for a while, I couldn't even see where the camera was. After that, even my mouth felt bitter. Unknowingly, I said 'It hurts me so bad,' 'It hurts me so bad.' That is what the staff told me later."
- I guess beating must've been as difficult as being beat.
"There was a scene in which I beat Yamamoto Daro, a Japanese actor, so hard in a restroom. In fact, the movie director told me to say hi to him before shooting. But I didn't. I thought not having friendly feelings for him would be helpful for acting. Once the filming started, I beat Yamamoto Daro as hard as I could. I heard martial arts manager Jung Doo-hong telling director Song Hae-sung, 'That guy looks crazy when he starts acting (laugh).'"
- You gained a whopping 20 kilograms to become 94 kilograms only because of this acting job. And only a month and half after the shooting, you lost 18 kilograms.
"For an actor, losing weight is nothing to boast of. After filming, all I had in mind was to lose weight. No wonder I succeeded. In the evening, I used to run back and forth from Cheongdam Bridge to Banpo Bridge. At that time, I ran without a penny, wearing short pants. I feared I might take taxi back home out of exhaustion. I couldn't trust myself."
- You played the first sole, leading part in the movie in four years after 'Peppermint Candy.' Eleven billion won was spent on making this film. Isn't that big money a burden to you?
"Don't tell me 11 billion won is on my shoulders. I get to take a guarantee and the price for meals only. Director Song spent the rest of the money (laugh). All of a sudden, I realized that my true zeal and passion for acting have left. Now I can see fat rolls around my belly. To be honest, I could have made less effort. People tell me I'm 'a brilliant actor.' So I guess I will feed on this movie for a couple of years (laugh). Even if I do poorly in a few upcoming movies, people will be generous and won't tell me I am not 'a brilliant actor.' But I wanted to test myself. I agonized over whether I would be able to lose weight, or whether I could do it all by myself again. And finally I decided, 'I don't know, but let me just give it a shot.'- and now here you see."
Seung-Jae Lee sjda@donga.com