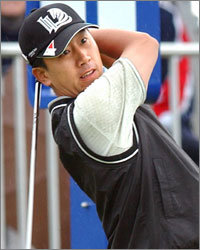 The "infernal race" is about to be started.
The "infernal race" refers to the qualifying schools of the PGA Tour and the LPGA Tour in which golfers race for 2005 playing privileges.
Two male and 11 female Korean golfers will take the final tests in the qualifying school. Who will win the opportunity to play in the American pro-league?
Starting December 2, the qualifying school of the PGA Tour will be held at the PGA West Golf Course in La Quinta, California, and the qualifying school of the LPGA Tour will be held at the LPGA International Golf Course at Daytona Beach, Florida.
A total of 170 male golfers participating in the qualifying school will be playing six rounds, 108 holes in total, and 137 female golfers will be playing five rounds and 90 holes in total. In both qualifying schools of the PGA and LPGA tours, the qualifying limit is the top 30 golfers (a full seed for the top 25 golfers, and a conditional seed for the next five golfers).
In the qualifying school of the PGA Tour, Huh Seok-ho (Lee Dong-soo Fashion), and Wie Chang-soo (Charlie Wie) are aiming for PGA Tour membership, following Choi Kyung-joo (Superior•Taylormade), and Na Sang-wook (Kolon Elord).
11 female golfers: Kim Joo-mi (Hi-mart), Lee Mi-na (CJ), Song Na-ri (CJ), Lim Sung-ah (MU), Lee Sun-hwa (CJ), Bae Gyung-eun (CJ), Jung Il-mi, Lee Sun-hee, Oh Sun-hyo, Jenny Park, and Yer Min-sun will participate in the qualifying round of the 2005 LPGA Tour.
Among the 13 players, Huh Seok-ho and Kim Joo-mi receive the most spotlights from the press.
Huh Seok-ho, who ranks fourth in the prize money in Japan, is practicing on the field. Considering the last two years, in which he lacked stamina, this year he focused on complementing his stamina. Huh Seok-ho, who had participated in his voluntary service right before departing for U.S., is determined to bring happy news to his mother, who is suffering from breast cancer.
Sang-Soo Kim ssoo@donga.com