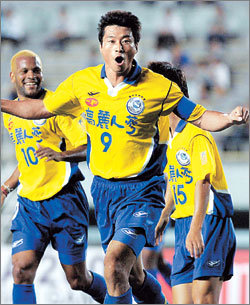 "Sungnam Ilwha is determined not to let this opportunity to be enthroned as the strongest football club in Asia go."
Sungnam Ilwha's preparing for the last battle that will bring them to the throne of Asian club football.
On December 1, Sungnam Ilwha will play the second leg of the 2004 Asian Football Confederation Champions League final against their Saudi counterparts Al Ittihad, which has won the championship of Saudi Arabian league six times. By winning the first leg of the final held on November 25, three-one, Sungnam Ilwha is in the lead. Even if the team loses by one goal or zero-two in the second leg, Sungnam Ilwha will still win the championship according to ground rules that give advantages to the away team.
If Sungnam Ilwha wins the championship, it will be the third championship which they won this season, following the A3 Nissan Champions Cup and 2004 Samsung Hauzen Cup. Also, Sungnam is returning to throne in nine years since they won the championship of the 1995 Asian Club Cup, the former body of the Asian Champions League.
After giving away the first leg of the final, Al Ittihad dismissed head coach Tomislav Ivic from the position and placed coach Dalgan Tralich as the acting head coach. Dalgan Tralich said, "Although the team lost in the first leg due to severe injuries of the players, I wish to make a historic moment by winning in the second leg," during a press interview held on November 30 in the Jamsil Lotte Hotel.
Meanwhile, Sungnam Ilwha plans to win the championship by putting Kim Do-hoon and Lee Sung-nam, who rank first and second in number of goals scored during the championship, up front. Kim Do-hoon, who put in a goal in the first leg of final, showed his determination to win the championship by saying, "By making another goal in the next match, I wish to be recognized as the best striker in Asia."
Sang-Ho Kim hyangsan@donga.com