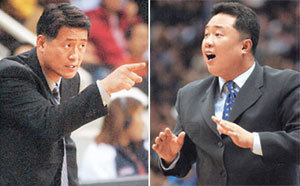 KTF Magic Wings' coach Choo Il-seung and TG Sambo Xers' coach Jeon Chang-jin.
Both 41 years old, they are the only two in the 10-man "control tower" of Korean professional basketball to have come from a management background.
Coach Choo was one of the founding members of Kia's professional team in 1986, and worked as its manager from 1987 to 1997. Coach Jeon was a national player in the youth-division while attending Korea University, but his subsequent career in Samsung ended prematurely due to an injury, and he settled down as the team's manager for eight years from 1988 onward. At the time, the players' quarters for both Kia and Samsung were located close to Yongin-si, Gyeonggi-do, so they even ran into each other a few times while out to buy midnight snacks for their respective charges.
The position of manager, which requires constant catering to the individual needs of the players, is a far cry from the leadership role enjoyed by a coach. But Choo and Jeon eventually went on to open a new era of success as coaches in the pro league.
The KTF Magic Wings, led by Coach Choo, is at the top of the league this season with 10 wins and four losses. Coach Jeon's TG Xers, already a leading team in Korean basketball, is just one step behind, in joint second place.
In a field bustling with big names, these two coaches achieved their teams' rise to the top with just their bare hands. "If I faltered at my job," one of them said, "people were sure to attribute it to my management background or my supposed 'lack of professionalism.' I could take anything but that."
Choo and Jeon—who both say they think about basketball all the time except when they're asleep—sought out instruction and advice on strategy and player selection from all quarters, even going to those with less seniority in the business if they thought it would help. The two coaches are also similar in their non-discrimination among starters and sixth men when it comes to giving the players the opportunity to play. After all, they know better than anyone the frustration of a life on the bench.
"I got my confidence by watching Chang-jin, who became a coach before me," Coach Choo said, adding, "There's still a lot I don't know, so the learning process is still going on." In response, Coach Jeon said with modesty, "I was under far more pressure to produce results than most others, so I was lucky to meet a group of excellent players."
Choo and Jeon have both survived in the brutal world of pro basketball on the strength of talent rather than reputation. In Busan on November 30, the two coaches will meet head-to-head in their second match-up of the season. At the first encounter, the KTF Magic Wings ended the TG Xers' seven-game winning streak on the latter's own home ground. This time, the tables are turned, and it's KTF that's sweeping in on the wings of their seven-game winning streak.
In any case, the courts will certainly be heating up this winter.
Jong-Seok Kim kjs0123@donga.com