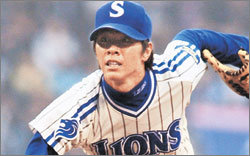 The original standard was the price of Lee Seung-yeop, who joined the Japanese baseball team, Chiba Lotte Marines. Lee Seung-yeop was offered a four-year FA contract of almost 10 billion won by Samsung. On this, Lim Chang-yong suggested he would have to receive at least nine billion won for four years from his original team Samsung if he were to remain in Korea.
However it is true that he lowered his standards for overseas contracts. His father, Lim Young-chi, said, "If Chang-yong gets the chance to be the first Korean professional baseball player to play in the Major Leagues, that would be more meaningful than money."
In Japan, where it is possible for to get a better deal than in the U.S., negotiations have been going smoothly, such as with the new team Rakuten Golden Eagles, which is showing eagerness in Lim. It has been known that Rakuten offered 450 million yen (around 4.6 billion won) for two years.
The problem occurred when Shim Jung-soo won the biggest contract ever. Referring to the case of Shim Jung-soo, Lim Chang-yong is expecting at least 600 million yen for two years. Because of this, the almost-completed contract with Rakuten is being delayed.
A Major Leagues debut seems unrealistic at this point. Therefore, there is even the possibility of him remaining in Korea. But if Lim Chang-yong continues to demand more than Shim Jung-soo, it seems that even Samsung, the only team that is capable of signing him, will have to give up.