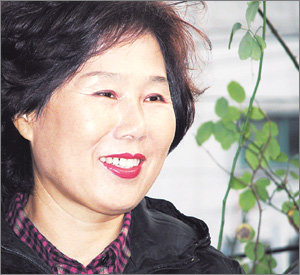 I curled up with a good novel for the first time in a long time. Famous for the smooth flow of sentences and savvy descriptive style that captured the complicated ups and downs of life, Lee Chung-hae (56)'s fourth novel collection "Man Who Turns Music Sheets" is pure fun at first sight. After flipping the last pages, a grounded echo resounds. An urge to sprint outside and breathe some fresh air comes over me. And I want to ask myself, "What is living, after all?"
The characters in her novels are all middle-aged. A middle school teacher in the mid-40s, a 55-year-old middle class housewife, and a government worker in his 50s. These people have never gone hungry or been stripped down to tatters. They have never been filthy rich, either, but nobody complains. They do not harbor ambitious dreams or search for their desires from far beyond. They have never led lives of the rich and famous, but self-sufficiency has given them reason to believe that they have been blessed. Is it really so?
They have received a phone call from a long-lost lover one day ("The Light of Afternoon"), or met an old friend for the first time in 25 years at a high school reunion ("In the Middle of Life"), or lost a job in a faltering economy ("The Man from Credit Guarantee Fund") and suddenly see their reflections in the mirror. They ask themselves, "Was it truly okay? Are you satisfied with what you have become?"
The characters in the novel, however, do not easily fall into futile depression or deviation when confronting their true selves. They do not crumble underneath the weight of their own existence when facing barriers for the first time in their tunnel-vision lives. Whether they are haves or have-nots, successes or failures, they gradually realize that the essence of life remains the same. The merit of observing life's truths shines through in Lee Chung-hae's novel.
The characters in the novel are drawn with sharp contrast. "The Man from Credit Guarantee Fund" is a story about a man who has lost his job and his wife, and a Credit Guarantee Fund employee who has come to collect his debt. One man is destitute but healthy, and the other keeps his job while fighting cancer. These two men, who have met under the conflicting positions of owing and receiving debt, share their circumstances freely and realize the ironic truth that the total sum of the fortune and misfortune that befalls an individual is equal.
This recurrent stark contrast is apparent in "In the Middle of Life" also. The happiness and sadness that "I," a widowed and single mother of a son, and my high school friend Yoon-ju, who is a wife of a university professor and has it all, are easily juggled judging from the outside. "I" feels, however, after the discovery that Yoon-ju has gone through several leg surgeries from continuous car accidents and is becoming drawn both mentally and physically because of her husband's roaming eye, that our lives are not worlds apart, but perhaps on equal footing.
Another attraction of Lee Chung-hae's novel is the "tolerance" and "compassion" she bestows on life. The people in her novel heartily proclaim, "Although we may be lone fighters, if it makes others happy, the fight is great." The protagonist of the title novel "Man Who Turns Music Sheets," on being questioned as to whether turning music sheets can really be called a job, answers, "I am honored that I can be here, where so many people can find good music."
A veteran author who already illustrated sheer love in a previous work, "The Illusion of Aurora," is, as expected, part of the analog generation. The digital generation, which has been taught that "money" values always overrule, may mock the analog generation. Time and tide wait for no man, however, and they will find their once-young selves inevitably old. Perhaps they will understand then, that the wheel of fortune favors no one and churns the same for all of us.
Mun-Myung Huh angelhuh@donga.com