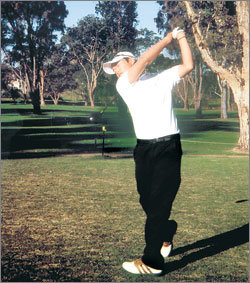 A 12-year-old boy landed the first slot in Australia's junior golfer rankings, won 38 championship in the past two years, and won 23 championships in club tournaments where he competed with adults.
Ahn Woo-jin, a golf whiz of Drasale Junior High, captured Australia with surprise. Also known as Danny Ahn in Australia, he is the standout among Korean junior golfers abroad.
Ahn's performance in the Australia's National Junior Golfer Tournament for boys and girls 12 to 17 in age was something of a miracle. Coming in fourth, he became selected as part of a six-member national team. The local press said, "Danny rewrites the history of Australian golf."
Recording a 96 par Four Months after his Debut—
Born in Seoul on November 19, 2001, Ahn has been good at sports, ranging from baseball to swimming to skiing. When he tagged along with his father to an indoor golf range as a second grader, he began to learn golf. Four months after his first swing, Ahn posted 96 par and 14 months later, came in first at the Seoul City Children's Golf Tournament
However, it cost Ahn's family an average of 50 million won a year to teach him how to play golf better. His parents decided to send him abroad for golf lessons. Ahn left for Australia with his mother in 2001.
Ahn is good at wood shots. His average driver shot reaches 270 yards and his average wood shot is 240 yards.
"Now, my physique is on par with them. However, I had to practice wood shots intensively to outperform Australian golfers who were taller than me by at least one human head," said Ahn.
Ahn, who dreamed of becoming another Tiger Woods, was adopted as the Junior Golfer of the Year in 2002 and 2003 by the state of New South Wales.
He has grown taller starkly in the past three years. Ahn, who is a first grade junior high student, is 177 centimeters tall and weighs 67 kilograms. Since he will be taller, Ahn will pass the physical for the U.S. PGA tour sometime soon.
Learning Golf Himself—
With his father's recent business failure, he has been practicing himself in the past six months because he could not afford a tutor.
His parents make ends meet as janitors for offices and schools. Ahn could not play in national tournaments because of costly expenses. Although he was invited to the junior tournaments of Ikseol and El Road Tours, he could not play in the local tournaments.
"Woo-jin is consoling us, not the other way around," said his father. "He said he would play in tournaments where organizers would foot all bills. But Woo-jin's nationality is Korean. Australia would not do a foreigner such a favor."
Young-Sik Ahn ysahn@donga.com