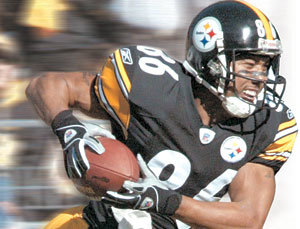 On the upper right arm of Hines Ward, a 28-year-old wide receiver of the Pittsburgh Steelers, his name is tattooed in Korean. Born to a Korean mother and an American father, Ward occasionally has said that he takes pride in being an American and Korean at the same time.
"My life has been shaped by my mother. She taught me to always be humble in everything that you do, and told me that I should give every effort in order to achieve something that I really want. I followed her word," said Ward.
Ward has achieved his American dream. Ward is the cover page model for this week's issue of Sports Illustrated published on November 16.
With the headline titled "Steelers back on top," the picture of Ward celebrating his successful offensive attack is the cover page of this week's SI issue. Shown on the cover page of one of the most prestigious sports magazines clearly shows Ward's worth.
This is the first time that an athlete of Korean blood has appeared on the cover page of SI magazine. Chan Ho Park of the MLB's Texas Rangers was introduced in the magazine in a four-page article when he debuted in MLB in 1994, but not on the cover page. Korean-American figure skater Nari Nam, and Korean baseball slugger Lee Seung-yeop were briefly mentioned.
SI emphasized that Ward is at the center of the Steelers' strong offensive power. The Steelers are having a great season with eight wins and one loss. Don Banks, SI's journalist specializing in the NFL, said that Ward is more talented than Terrell Owens of the Philadelphia Eagles, who is regarded as the best wide receiver in the NFL. Ward is ranked third with 54 catches and 11th with 663 yards received in the NFL after having appeared in nine games.
A wide receiver, also known as flanker, is an offensive player who lines up on or near the line of scrimmage, but split to the outside, whose primary job is to catch passes from the quarterback.
This is the second time that Ward has appeared in SI. In October 1997, SI published an in-depth article on Ward when Ward, then a senior at the University of Georgia, became the first college student to surpass 1,000 receiving yards in an NCAA regular season. The stories of hardships that he had to endure throughout his childhood with his divorced mother Young Kim and how he managed to be a superstar in NCAA football were dealt with detail.
Ward is one of the most respected players on the team as well. He was named team's MVP in last two consecutive seasons. This is the reason why the Steelers are carrying out a "smoke-free" event with Hines Ward on November 19 (Korean Time) in the Steelers' locker room at Heinz Field.
Jong-Koo Yang yjongk@donga.com