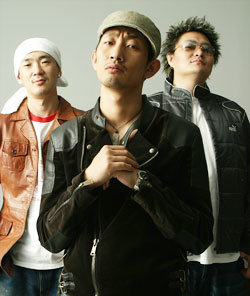 "Ha-neul gave me a chance. He meant for me to feel my own presence in the group," Kim Chang-ryul of DJ DOC remarked.
DJ DOC returned to the music scene after a four-year hiatus with a set of ballads. In its sixth album entitled "Love, Sex, and Happiness," released on November 9, it scales back its trademark sound of aggressive rap and powerful beats to present a collection of emotional ballads and cheerful rhythms. The album is the result of vocalist Kim Chang-ryul (31) taking over the reins as general producer instead of rappers Lee Ha-neul (33) and Jung Jae-yong (31).
"I'm not sure how the other members of the group think about it," Kim said gingerly with a sidelong glance. Lee and Jung, sitting to his side, laughed. "We can't say we're 100 percent satisfied."
Lee added, "Chang-ryul was a little downcast while we recorded the fourth and fifth albums because they were so rap-oriented, which left little for him to do. So he stepped to the foreground for the new one. For the group as a whole, it enriches us musically."
Psy Wrote the First Single, "Investigation Leader"—
DJ DOC's newest offering strongly reflects the sensibilities of newlywed Kim Chang-ryul, who got married in December of last year. Jung described the album as "80 percent love stories." The album's title, "Love, Sex, and Happiness," indicates this overall direction.
The first single is "Investigation Leader," written by Psy. It's a rap number that uses samples from the opening theme of "Investigation Leader," a hit TV drama from the 70s and 80s. It tells the story of a man who suspects his girlfriend of infidelity, and becomes a detective of sorts in order to find out the truth. The choreography for the song was handled by Kang Won-rae.
"Hold My Hand," "Grief," "It's Okay," and "A Dream Unlike Yesterday's" are all ballads that embody the character of the new album. They showcase Kim's sensitive vocals. In "A Story that Ended," written by Lee Hyun-do of former Deux fame, Kim's heartrending vocals strike a harmony with Jung Jae-yong's low-toned rap.
"It Lacks Sharpness, but It'll Be Easy to Listen to"—
"I've Lived Like a Fool," a remake which incorporates DJ DOC's rap into original singer Kim Do-hyang's vocals, begins gently then builds to a strong choral finish. "I Wanna," "Street Life," and "One Night," with their strong beats and vibrant rapping by Lee Ha-neul and Jung Jae-yong, preserve the effervescence of their previous albums.
"It's hard to encapsulate DJ DOC in a word. We seem to both have and lack a particular color. I made a song about my quarrel with Baby Vox, but I refrained from including it because this was supposed to be Chang-ryul's album," Lee explained.
Lee Ha-neul was sued by Baby Vox for libel after denouncing the female group, who used samples from world-renowned rapper Tupac Shakur's songs, as "sex singers." The suit is still in progress.
"The new album lacks sharpness and might feel unfamiliar to existing fans," Jung said, "but I think it'll prove easy to listen to after a while."
DJ DOC came out with its first album in 1994. So this year marks its 10th anniversary as a group.
"The fact that we've all stayed together, even Chang-ryul, who is of a different color musically, seems to be a testament to the unique affection and bond we share," Lee offered.
Sun-Woo Kim sublime@donga.com