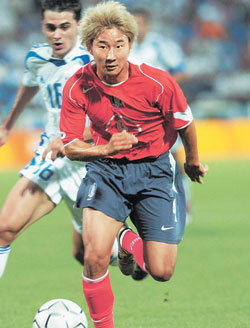 "No more breaks for Maldives!"
The final game of South Korea against Maldives in the second round of the Asian qualifying match for the 2006 World Cup will be the game that will end all games for Korean soccer.
Korea, with three wins and two ties, has managed to hold onto the first spot in the round, with Lebanon on its heels with three wins, one loss and one tie. If the national team ties or loses the game, there will be few international games it can play in the next two years.
Head coach Jo Bonfrere has decided to bring in all top players playing in international soccer leagues—Lee Young-pyo and Park Ji-seong, both of the Netherlands' PSV Eindhoven, Lee Chun-soo, of Spain's Numancia and Seol Ki-hyeon of England's Wolverhampton Wanderers arrived in Incheon International Airport on October 15.
For the first time, the two-hour strategic training session starting at 7:45 p.m. on October 15 was attended by all 20 entry players. Lee Chun-soo, who suffered an ankle injury but who greatly helped during the second half of the latest game in his team's turnaround from five consecutive losses, appeared confident and said, "I will disable the defense line of the Maldives, which will do nothing but mount an intensive defense." He appeared to reinforce his self-confidence by saying, "I am the one who will be responsible for Korean soccer."
Ahn Jeong-hwan of Japan's Yokohama, who shook a brief slump by posting a score and an assistance in the game against Yamagata on October 13, said, "I am considering resorting to long shots and out-flanking because the Maldives mounts a strong defense in a serried formation." He added, "With faster shooting and passes, I will unlock the goal gate." Ahn, who has played as a game breaker in all games since Bonfrere took the helm of the team, posted less than impressive scoring records.
"Although we had to let the first game finish in a tie because we did not know about Maldives," said Lee Young-pyo, "we now know the tactics they use and it will be an easy game for us."
Whether the teetering Korean soccer will bounce back will depend on whether the international league plays can start a streak of goals.
Sang-Ho Kim hyangsan@donga.com