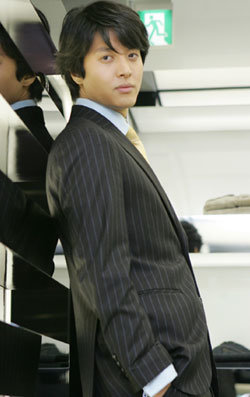 It's 6:00 a.m. on November 13 in the lobby of the Kobe Meriken Park Oriental Hotel. Over 100 Japanese women in their thirties and forties fill the lobby despite the early morning hour. They are waiting for "Dongon-sang," better known as the Korean actor Lee Dong-gun.
Lee is staying at this hotel for the Japan location shoot of "Yuriwha" (written by Park Hye-gyeong, directed by Lee Chang-sun, Weds. and Thus. at 9:55 p.m.), an SBS drama set to debut on December 1.
At 6:30 a.m., when Lee arrives at the lobby, the Japanese female fans gathered there shower him with letters and gifts. Clapping their hands and hopping up and down with excitement, they appear no different from teenaged fans.
At 8:00 a.m. on Kitano Street, Kobe City. Lee has already begun shooting, but the streets are crowded with fans who followed him in taxis and other modes of transportation.
"When I'm with you, my heart trembles."
The main character, Dong-ju (Lee Dong-gun), professes his love to Ji-su (Kim Ha-neul). Those among the watching Japanese fans that can speak Korean burst out in sighs and exclamations. The scene has to be re-shot because of it, but the atmosphere on set climbs to a higher pitch. It seems that even the most mundane lines, when they fall from Lee's lips, sound like the quintessence of romance to his devotees.
Since "Sweet Eighteen" aired on the Korean channel of Japan's satellite television, Lee has risen as the new "hanryu" star (a Korean star with pan-Asian popularity), following in the footsteps of Bae Yong-joon, Lee Byung-hun, Won Bin, and Jang Dong-gun. Kato Aki (36), who lives in Osaka, said in fluent Korean, "Dongon-sang is handsome and has a great voice," and added, "I watched 'Lovers in Paris' several times over on the SBS internet feeds."
"Yuriwha" is a melodrama about two men, Dong-ju and Gi-tae (Kim Sung-soo), who grow up like brothers in the same orphanage and end up falling in love with the same woman. Dong-ju is adopted by the president of a Japanese insurance company and becomes the heir to the corporate throne, but returns to Korea 10 years after he left and eventually comes in between Gi-tae and Ji-su.
Because of the tight schedule, the cast and crew of "Yuriwha" have been hard at work, shooting until 3:00 or 4:00 each morning, snatching a couple of hours of sleep, and beginning again at 6:00 a.m. They try to make up for sleep deprivation by briefly dozing off in between scenes.
"I had no idea that Japanese fans would be this enthusiastic. And they're so good at Korean! Look at this letter—her handwriting is even better than mine."
Despite his exhaustion, Lee was courteous and attentive during his interviews with newspapers like Asahi and Yomiuri, as well as with Kyodo News. Fuji TV and Asahi TV even aired on-set specials for the show.
"The fatigue isn't as much of a problem as the lack of rehearsal time," Lee lamented. "I need to repeat lines like 'You are here (in my heart)' hundreds of times in order to get them right, but I just don't have enough time."
"Yuriwha" was planned with Japan's "hanryu" wave in mind. The current location shoot also targeted Japanese fans and their mounting interest in Korean stars.
While in Japan, the show's production is handled by IMX. IMX producer Kim Gyeong-ja, herself a Korean living in Japan, explained, "Melodramas disappeared from Japanese TV about 10 years ago. Now that the genre is being reintroduced through imported Korean shows, it's generating a nostalgic interest among married women in Japan."
"Unlike Japanese actors, who are mostly quirky and character-driven, Korean actors are handsome and gentle in manner, and I think that appeals to the female viewers," she offered.
Jung-Bo Suh suhchoi@donga.com