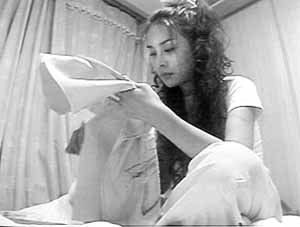 A story of a transgendered entertainer Ha Ri-Soo will be broadcasted on a TV program. KBS 2 will air `That Woman, Ha Ri-Soo` through a program called `Human Theater` (Mon ~ Fri, 8:50 p.m.) from 11th through 15th. `That Woman, Ha Ri-Soo` will tell the personal story of Ha Ri-Soo, including her experience after transgender operation and the experience as an entertainer.
In part I, a story behind the `D` cosmetic production advertisement, which made Ha known to the public, is told. During the photograph session, the advertisement producing team was struck by Ha Ri-Soo's physique that was better shaped than any other woman. However, other people gossiped that Ha was lying about her gender identity in order to maximize her commodity value. When the interviewer asks about the validity of the rumor, Ha Ri-Soo shows something to the interviewer after a little bit of hesitation.
In part II, a story about her school life before the operation and the relationship with her parents is told. Ha Ri-Soo meets with her schoolmates in the midst of her busy schedule. Her schoolmates are all males. However, they are not really surprised by her new identity, since Ha was already too feminine during her school years. Ha once loved a `man`. They understood and accepted each other. However, they had to be separated from one another due to the social prejudice. Since then, Ha has been asking various advices about life to her `senior` transgendered person.
Ha Ri-Soo says that the relationship with her parents has been the most difficult part since her operation. Her father still does not accept his only son as a `daughter`. Finally, Ha had a dinner with her parents last Parents Day, and her father felt sad for his child saying, ``I-Soo (Ha Ri-Soo) is the most pitiful person.``
Chang Ghi-Ha, producer of the program, said that ``Ha Ri-Soo began to participate in the family events, such as birthday party for her niece and the wedding ceremony of her relatives, since the meeting with her parents. Her family members and relatives seem to begin to accept her new gender identity.``
Lee Seung-Heon ddr@donga.com