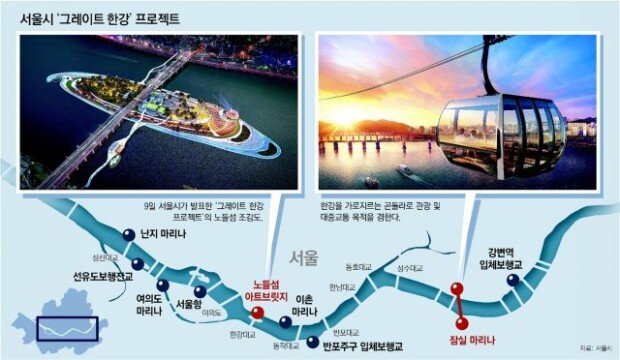 Gondolas will be installed to let people enjoy the scenery while crossing the Han River. Large-scale infrastructure for tourism, culture, and art, such as the second Sejong Cultural Center and a harbor for water activities, will also be built along the river.
On Thursday, Seoul Mayor Oh Se-hoon presented a plan for the "Great Han River Project," which includes 55 projects in a press conference held at the City Hall. It is the project under the "Han River Renaissance 2.0," an upgraded version of the "Han River Renaissance" announced by Mayor Oh in 2007. "The "Han River Renaissance" sparked a new culture of the Han River, but many people still say that the city is not easily accessible and lacks things to enjoy. It is now time for us to take a leap forward for the Han River," said the mayor, explaining the background of the project.
The project will allow the city to diversify its transportation options to make the Han River more accessible. Gondolas will be installed across the river at key locations, serving as a means of sightseeing and public transportation. Seoul will also revitalize water transportation by creating marinas (ports) in each area, starting with the neighborhood of Nanji Han River Park in Mapo-gu. "We will also commercialize Han River tourism products using the urban air traffic (UAM) by 2025," said a city official.
Large-scale spaces for arts and culture will be set along the river. The second Sejong Cultural Center will be built in Yeouido Park. "Our initial plan was to build it in Mullae-dong, Yeongdeungpo-gu, but the site was changed to Yeouido considering accessibility," a city official explained. The Jamsu Bridge will be changed into a pedestrian bridge, becoming a venue for movies and small performances. Seoul Culture Plaza will be established near the rebuilt Yeouido Sibeom apartment, and Nodeul Island in Yongsan-gu will be transformed into a place full of greeneries and arts.
The project to restore nature around the Han River will also be launched. The city decided to replace the 57.1-kilometer-long restorable concrete seawall with a natural seawall lined with plant mats. Gangseo Wetland Ecological Park, which has well-preserved vegetation, will be designated as an additional ecological landscape conservation area.
The Great Han River Project will be largely funded by private investment. "It will cost (almost) nothing from the city budget," said Mayor Oh. "I will ensure that all projects are carried out with minimal financial input from the city."
4g1@donga.com