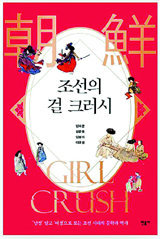 If you visit a bookstore these days, you'll find works by female writers on almost every shelf. It's remarkable that the Yi Sang Literary Award winners for the past two years have been female novelists. This reality was unimaginable even two centuries ago. During the Joseon Dynasty, women faced significant oppression and were relegated to domestic tasks such as sewing and cooking. They were often forced into arranged marriages with men they had never met, without any say in the matter. It's unjust and disheartening to think that women in those times didn't have a voice to speak up for themselves.
But was there really no one who spoke up? The book 'Joseon's Girl Crush' highlights that there were exceptional women during the Joseon Dynasty, and they were not just fictional characters such as 'Park Si-jeon.' Four scholars specializing in classic novels and gender roles at the Academy of Korean Studies worked together to uncover progressive female characters from national archives and folk tales. They supplemented 27 manuscripts published in The Dong-A Ilbo between September 2018 and March of the following year and added 13 more stories, resulting in a total of 40 stories.
There was a woman whose name was not even left. In the past, noble families did not include female names in their genealogy, so only the family name remained. Mrs. Lee of Jeonju dedicated her life to scholarship. Although there were a few women from affluent families who were able to study, Lee was not confined to her home. She wrote Wanwolhoemaengyeon, the longest novel in the Joseon Dynasty. The total number of volumes was 180, and the number of letters reached about 3 million. To have her skills recognized, she even distributed her book to the palace. As a result, Lee became a bestselling author.
The book sheds light on both outstanding and ordinary women of the past. It includes stories of a woman who stood firm against her husband's consistent request for a divorce, a woman who executed a Japanese general during the Japanese invasion of Korea in 1592, and a woman who was summoned by King Jeongjo to tour Hanyang and Mt. Geumgang from Jeju Island. These stories showcase that women during the Joseon Dynasty were just as capable of having dreams, courage, and desires as men. "We hope this book inspires and empowers women who still face discrimination today," the authors said.
leemail@donga.com