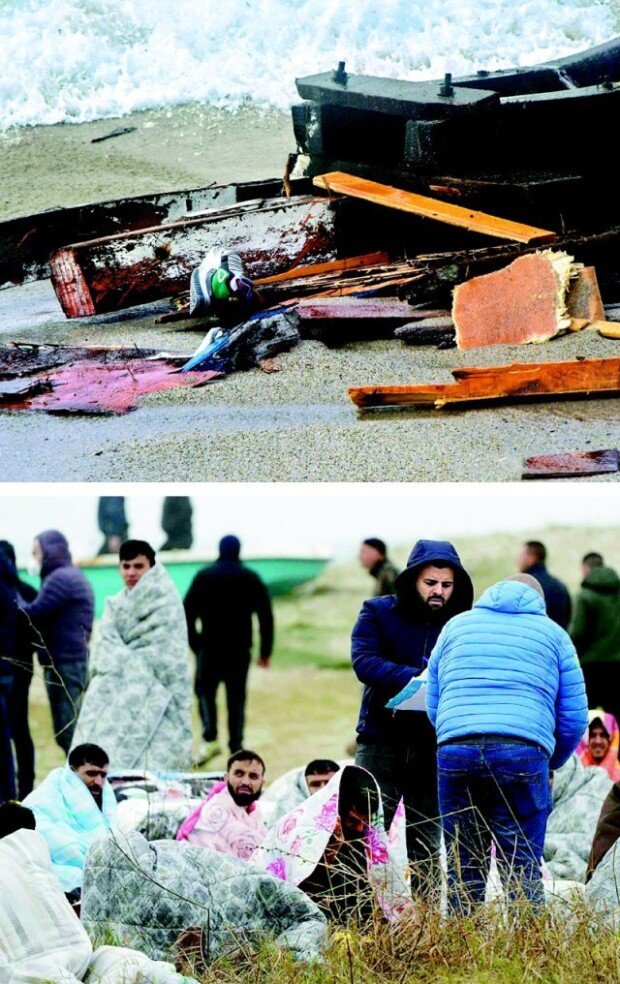 At least 59 people, including 12 children, have died after a boat carrying migrants crashed into rocks in rough seas off the southern Italian coast. Criticism against Italian Prime Minister Giorgia Meloni is growing stronger as her administration has imposed tough new laws restricting the activities of migrant rescue charities. Since Benito Mussolini, Giorgia Meloni is the first far-right prime minister in 100 years. Even before taking office, she was called the most dangerous woman in Europe or the female Mussolini due to her calls for anti-immigration and anti-Islam policies.
On Sunday, a wooden boat with over 200 migrants smashed into rocky reefs and broke apart before dawn off the Italian coast near Steccato di Cutro, Calabria. As of Monday, 81 migrants had been rescued and 59 bodies had been recovered, including those of 12 children, including a newborn baby and twins. The death toll is expected to rise, as at least 60 people are missing in the rough waters. The Guardian reported that 'the vessel is believed to have left Turkey four days ago for Europe with people from Afghanistan, Iran, and Pakistan on board.
The Italian prime minister claimed that illegal immigration brokers caused the boat accident. She expressed deep sorrow for the deaths and blamed human traffickers who profit while offering migrants the false prospect of a safe journey in her statement.
However, some argue that the Italian government is not free from responsibility, as the Senate of the Republic passed laws strengthening regulations on the rescue activities of migrant rescue charities three days before the accident. The law allowed only one rescue activity for each rescue charity, and violations would result in fines of up to 50,000 euros. The law was aimed at Doctors Without Borders, which had previously conducted several rescue operations off the coast and requested entry for the migrants. Italy has been uncooperative in responding to DWB's entry request, assigning a port 100 hours away last month.
According to the United Nations High Commissioner for Refugees, more than 17,000 refugees have died or gone missing in the central Mediterranean alone since 2014, when the flow of Syrian refugees to Europe began in earnest. At least 220 died in January and February of this year. As many people who have lost their livelihoods due to the recent earthquakes in Turkey and Syria may attempt to reach Europe at the risk of their lives, a pan-European response is needed.
chaewani@donga.com