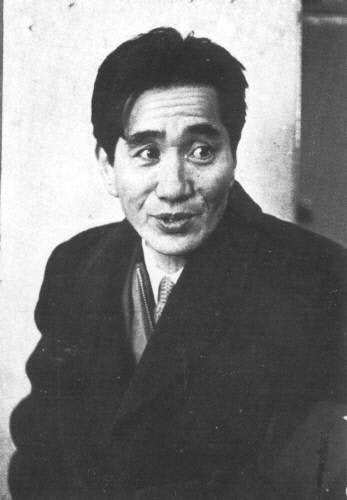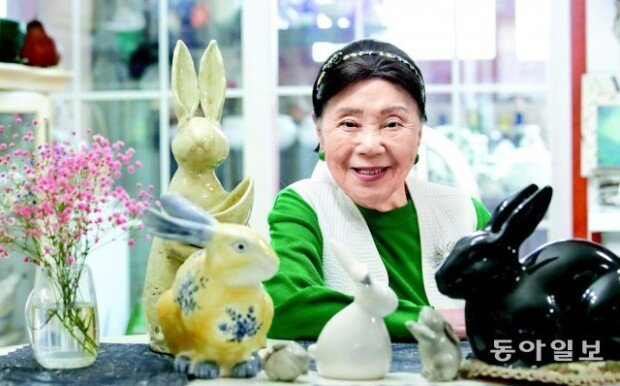 "It is not without some superstitious elements etched in my subconsciousness which finds it favorable that the chickens and hares get along well with one another. I was born in the year of the chicken, and my life the rabbit."
This is an excerpt from a writing called "Rabbit," an essay written in the 1960s by poet Kim Soo-young (1921-1968, pictured). The Dong-A Ilbo had an interview with Mrs. Kim Hyeon-gyeong (95), the wife of the late poet who appears in the essay as "wife born in the year of the rabbit" in her house in Yongin, Gyeonggi Province.
"We were friends in the same neighborhood. He was eccentric, with his piercing eyes. When I was having a hard time, he asked me to write with him, telling me that I was talented in literature."
While it was 81 years ago, her memory was still fresh, as if it had been yesterday. "He would whistle Beethoven's Fate in front of my house, and then I would know he was there. That was how we went out," Mrs. Kim explained about her romance with the poet in 1942.
She said her husband was never easily satisfied with his work.
"For our dates, we would exchange our poems, and one day, he tore apart his paper of work, saying he did not want to write the same poems. It was in 1945, and he had published his poetry "Song of Shrine" in a major literary magazine. Even poet Jo Ji-hoon was fascinated by the poem."
"Rabbits give birth to their babies with their mouths. They are meant to be trained to hop from birth." This is how Kim's essay "Rabbit" starts. "My little sister visited and told us her rabbit gave birth to babies, and my husband whipped it up on the spot, as he knew I was born in the year of the rabbit," she explained. "He adored me as if I were a rabbit."
The late poet led a checkered life. Money was scarce, illness was his habit, and he met her. They were married in 1950, and war broke out shortly after. He was conscripted by the North side but managed to escape. After liberation, Kim published "Waterfall" and "The Blue Sky," both of which were critically acclaimed for their visceral awareness of reality, but he died in 1968 in an untimely car accident, leaving behind his adorable wife and two sons.
Almost half a century has passed since his death, but Kim's literary works are still the subject of study, and Mrs. Kim attributes this to the fact that "he never tried to mimic any other."
"He was a bookworm. Honest and sincere. He always sought life's essence and constantly tried to write anew and above himself. He was never complacent and grabbed his pen out of the spirit of freedom," she said with tearful eyes.
"Even now, I spend my day reading his books at home. His works are being read so much that a branch of study is dedicated to "Kim Soo-young." I cannot imagine how much this would've made him happy if he had been alive."
choigiza@donga.com