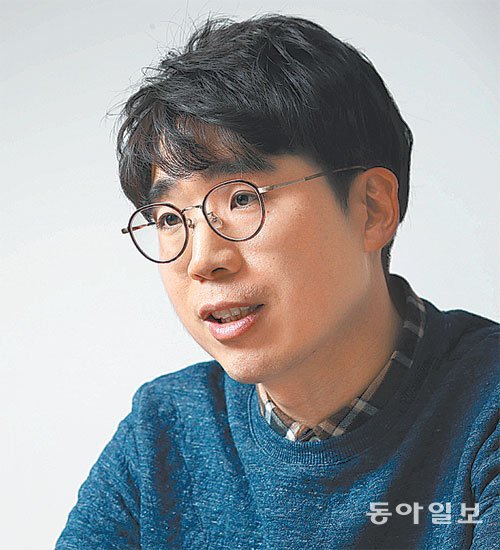 The movie "Default" is cinematized from a scenario listed in the compilation of graduation works at the Korea National University of Arts. "As a part of the generation, which was affected by the 1997 Asian financial crisis, I wanted to write a movie about those years. I read a news article about a secret task force at the government. That's where it all started," said the writer Um Sung-min, who majored in statistics at Korea University. We met him on Thursday and heard about the behind story of the movie.
―Why did you decide to write a scenario about the 1997 Asian Financial Crisis?
"The Asian financial crisis began in 1997 when I was a teenager. My father trusted the government's words that there would be no crisis in our economy and made a business investment. As a result, he experienced much difficulty running his business. I wanted to comfort those who suffered from the Asian financial crisis and tell them that it was not their fault."
―What documents did you look into when doing a research for your scenario?
"I tried to look into as many documents as I can, ranging from reports of economic research institutes, autobiographies of individuals, to news articles between January and November of 1997. Among those documents were the investigation report of state administration by the special committee and 'The cause of the Asian financial crisis and lessons-learned' by Samsung Economic Research Institute. There is this scene in the movie, where a businessman can't tell the difference between a director and the board of directors. I read that episode in a biography of a banker. And there's this scene, where a man in the financial business gives a presentation based on a story sent to a radio program. This is from Son Suk's interview, where she said she got so many letters from the listeners right before the Asian financial crisis that said their economic conditions got bad."
―Did you do a reporting by yourself?
"I met people who failed in their business. After meeting these people, I wrote the last line of Gab-su, 'Don't trust anyone.' After finishing the first draft, the film studio consulted an expert about the historical background."
―Why did you write about all walks of life in the movie?
"I thought I needed to write about everyone's sorrow. I created a character (Han Si-hyun), who tries to prevent crisis from happening, first and then someone (Yoon Jung-hak) who invests in that crisis, and someone (Gab-su), who makes a difficult choice not knowing about the crisis.
―Some say you showed only a certain side of the Vice Minister of Finance (Cho Woo-jin).
"I guess they could say so. But the same goes for the media's severe criticism on the investigation report of state administration by the special committee and the economic team. I intended to express public's anger, not make someone an evil."
― It is interesting that the main character is a female.
"Han Si-hyun is an imaginary character. This character disagrees with the majority who say the economy is strong. So I thought this character needed to be someone different. So I made the character a female."
―The movie is being released in a strange timing.
"This is my graduation work (Laugh). I never imagined it would become a movie, not to mention the timing of the release. I want people to discuss what should we do to prevent a crisis like this from happening again after watching the movie rather than focusing on what happened in 1997."
―What did you do when you had hard time making the story?
"I looked at some photos of those times or documentaries to experience that gloomy atmosphere. I saw a photo of a restaurant menu, which wrote its lunch special menu 'Camdessus' or watched a documentary that dealt with orphans who were abandoned by their parents due to their economic difficulty. I tried to relate to them."
―Now that the movie is released, how do you feel?
"Whenever I have time, I go to the theaters to see the audiences' response. Most of them talked about their memories of those times. I'm still learning from their stories. I'm working on my next scenario, which will also be based on real life stories."
Min Kim kimmin@donga.com