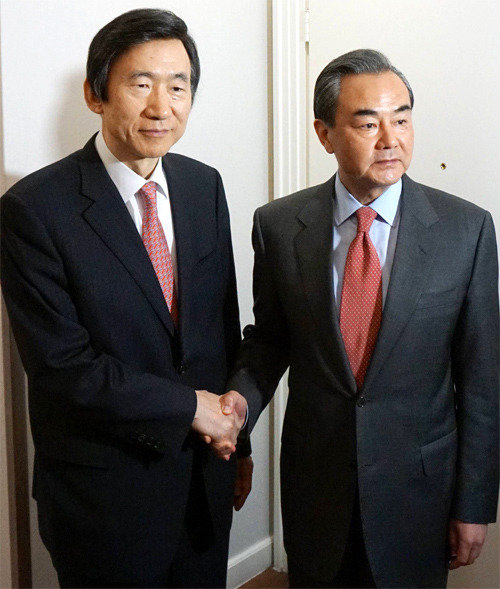 South Korea's Foreign Minister Yun Byung-se has officially asked Chinese Foreign Minister Wang Yi to withdraw Beijing's growing retaliatory actions for the deployment of an advanced U.S. anti-missile system at a meeting held in Munich on Saturday. This is the first time that a Korean minister directly complained to his Chinese counterpart and demanded correction.
"The withdrawal of reprisal moves is in line with Xi Jinping's policy for globalization and anti-protectionism that he disclosed at the recent World Economic Forum in Davos," Yun stressed. To this strong complaint of even mentioning Chinese President, Wang also responded firmly. "Those retaliatory actions are not initiated by the government, but reflect the sentiment of Chinese people. South Korea should not be hasty of deploying the U.S. Terminal High Altitude Area Defense (THAAD) system, and put off the plan for the time being," urged Wang.
The Munich Security Conference and the G20 Foreign Ministers' Summit, which were held in Germany on Feb. 16-18, clearly revealed the inconvenient reality of South Korea, China and Japan. Minister Yun had his first meetings with foreign ministers of Korea's four major allies this year with different attitudes according to his counterparts. During the talks with Russian and U.S. foreign ministers, he took pictures inside the meeting room with smiling face. But when being with Chinese and Japanese ministers, Yun did not disclose the meeting venue and just posed a stern-faced handshake with his counterparts. The talks with China and Japan started with such psychological conflict and ended without narrowing the gap of opinions.
At a meeting between Japanese and Korean foreign ministers on Friday, Japanese Foreign Minister Fumio Kishida practically refused Seoul's request for the return of Japanese Ambassador to Korea Yasumasa Nagamine, who was recalled to Japan on January 9. Fumio said, "The South Korean government should first take action to remove the so-called Peace Monument in Busan." In response, Yun asked Japan to "cautiously behave when it comes to sensitive historical issues" regarding Japan's renewed claims to Dokdo in education guideline for elementary and middle schools. The frigid atmosphere was also found in the foreign minister meeting between China and Japan as Chinese Minister Wang strongly claimed the Senkaku Islands, known as Diaoyu in Chinese, as China's territory. The only diplomatic achievement these days was the first summit with the U.S. after the inauguration of President Donald Trump where participants reconfirmed that bilateral security agreements remain unchanged.
Jung-Min Dong ditto@donga.com