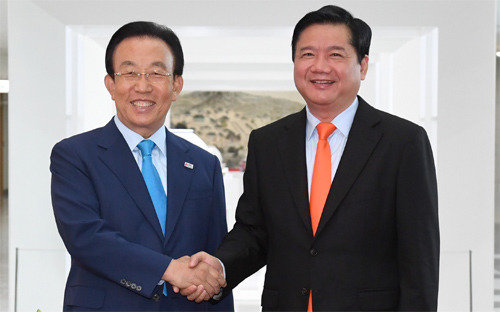 South Korea-Vietnam joint organizational committee is set to launch on February 21 to prepare for the 2017 Ho Chi Minh-Gyeongju World Culture Expo.
According to North Gyeongsang Province and Gyeongju City on Wednesday, the Gyeongju World Culture Expo will be held in Ho Chi Minh, Vietnam in November, the third time the expo will be held overseas following Angkor Wat in Cambodia in 2006 and Istanbul, Turkey in 2013. First launched in 1998, the Gyeongju World Culture Expo marked its eighth anniversary in 2015 with cumulative visitors standing at around 17 million people.
With Korea-Vietnam exchanges gaining further momentum recently, the latest expo aims to expand cultural cooperation based on the established economic cooperation. Vietnam is the No. 1 overseas investor of South Korea and No. 3 exporter, and 4,600 Korean companies already have their presence there.
The theme of this year's expo is "Joint Prosperity of Asia through Cultural Exchange," and will display performances, exhibitions and symposiums at Ho Chi Minh City Hall plaza and nearby locations. It will be held from November 9 through December 2. More than 10,000 people from 40 countries will participate as performers. said, "The expo will gain the most attention since the two countries forged diplomatic relations in 1992," North Gyeongsang Province Governor Kim Kwan-yong said. "We will ensure that the joint expo serves as a stepping stone for a new future between two countries based on economic and cultural cooperation."
Kwon-Hyo Lee boriam@donga.com