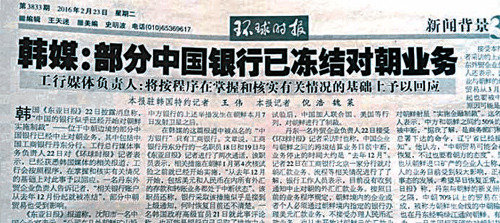 The Chinese government will suspend half of trade with North Korea, China's official Huanqiu Shibao (Global Times) daily reported Tuesday. It said that China will stop importing North Korean coals, which account for 42.3 percent of the China-North Korea trade, next month. The Huanqiu Shibao is a sister paper of the Renmin Ribao, the organ of the Communist Party of China, with a circulation of 2.4 million copies.
The Huanqiu Shibao quoted a trader in Dandong, Liaoning Province that China's coal trade with North Korea will be suspended, starting March 1 and that it is probably because of the financial sanctions following the North's satellite launch. The trader was also quoted as saying that China's Ministry of Commerce or the customs authorities sent an order to Liaoning Province about the trade ban and that half of China-North Korea trade will be halted.
The trade also stressed that while the China-North Korea trade will likely recover from May, it depends on Pyongyang's attitude. An informed source on China-North Korea trade also told the Dong-A Ilbo in a telephone interview that a Chinese businessman attempted to remit cash to the North via a Chinese bank in Shenyang, Liaoning Province to pay for North Korean iron ores but was informed that he was not allowed to do so. It has yet to be confirmed whether Beijing actually put a ban on imports of North Korean minerals.
It can be viewed that China has virtually started its independent sanctions on the North if it really bans mineral trade following a halt on Chinese banks' cash transfers to North Korea. The United States had urged China to ban imports of North Korean minerals. In addition, the addition of the United Nations Security Council's sanctions, for which China is involved in the negotiations, the Pyongyang regime will likely get hit hard.
베이징=구자룡특파원 bonhong@donga.com