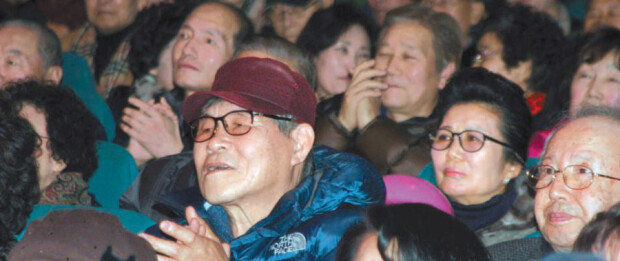 A doleful-looking couple was talking to each other on a screen on the fourth floor of the Nakwon Arcade in downtown Seoul on Jan. 27. The theater was full of audiences who were fully immersed in the verbal and body language of the actor and the actress. At a glance, it looked like any other theater. With a closer look, however, you could find that most of the audiences were gray-haired people and the movie was a rarity – "A Woman Teacher" released in 1972.
It has been exactly seven years this year since the opening of "The Hollywood Classic" for the elderly. Kim Eun-joo, 42, CEO of "A Theater Selling Past Memories," a social enterprise, changed the old Hollywood Theater to a theater for senior citizens in 2009. Though it has a single screen with 300 seats, the total number of visitors surpassed one million last year. With a word of mouth, the theater attracts over 800 visitors a day. It is as popular as other multiplex theaters.
The silver screen exists for senior citizens' right to have fun. Although watching a movie is the most favorite hobby for Koreans, it was not easy for the elderly to visit theaters. It is not easy to book a seat without an online reservation, and movies on screens are mostly for young people. The biggest differences between other theaters and the Hollywood Classic are films and ticket prices. Famous old movies such as Ben-Hur (1959), Ivanhoe (1952), Purple Noon (1960), and Chelsea My Love (1976) have been and will be shown at the theater. Those who are 55 years old or older and their spouse can buy a ticket at 2,000 won (1.66 U.S. dollars) per person, a price that is only 20 percent of a ticket price at a multiplex.
The theater pays special attention for the elderly. The size of subtitles are 1.5 times the size of those at other theaters. There is even an employee who guides senior citizens a way to the bathroom in the dark space. Tickets are sold in the morning without an online reservation. Kim explains about a film and etiquettes and guide exits. For safe return, the last film ends at 8 p.m.
The operation of the theater was not easy in the early stage, while it had difficulty to pay for the copyrights of films costing 300 million won (249,400 U.S. dollars) per year. As the Seoul metropolitan government and SK Chemical began to provide financial assistance of around 100 million won (83,100 dollars) annually, its profits started to improve. The bigger drive than the financial aid is love from audiences. Kim said with confidence, "I can go out to Jongno (where the theater is located) without an umbrella on a rainy day." This means that she knows many audiences who can share their umbrella with her. When Kim was in a financially-strapped situation, one audience lent her 30 million won (24,900 dollars), saying, "You can pay be back when things get better." Some audiences who formerly worked in the cinema community help her source rare classical films.
It is wrong to think that only those with "a light purse" visits the theater. Many frequent visitors include former ministers, generals and executives at large companies. A wealthy man sent a letter to the theater CEO, "I've never dreamed of watching 'The Sound of Music' at a theater with my wife again." Kim said, "I've received over 5,000 letters like this."
황태호기자 taeho@donga.com