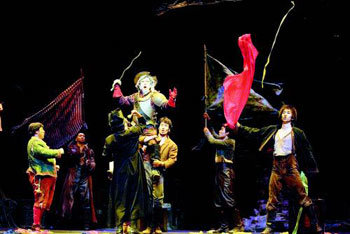 The Korean musical market is literally witnessing a "big bang" this summer.
Korean musical-goers will have a rare opportunity this summer to enjoy both critically-acclaimed and commercially successful Broadway musicals such as "Man of La Mancha," "Cats," "Chicago," "Gambler," "Hedwig," and "Thrill Me." We enlisted musical critics to offer their evaluations of the musicals based on five criteria –entertainment, music, cast, stage, and story.
Cats
"Cats" feeds the audience's eyes with splendid dances and extraordinary stage settings. Since May, the Broadway world tour team has been performing here in Seoul and the Korean team will launch its first licensed performance in September. It received low marks for the story, but high marks for entertainment. Musical critic Won Jong-won said, "The attraction of Cats is the performers' facial expressions and detailed body movements which make audiences feel as though they are looking at real cats. Follow every movement of the performers, rather than trying to follow the subtitles, and you will see the true lure of Cats." For more information, call 1644-0078.
Man of La Mancha
"Man of La Mancha" was well-received by Korean audiences last year when it was staged under the direction of David Swann, who is called the "Midas Touch" in the musical industry. Korean musical stars Cho Seung-woo and Chung Sung-hwa were double-cast to play Don Quixote at the time. This year's Don Quixote will be played by Chung Sung-hwa and Ryu Jung-han. And, members who participated in the 2005 and 2007 versions, including Yoon Gong-ju and Lee Hun-jin, will also join this year's cast. It received good marks in all criteria. "It is a play within a play that tells the stories of Cervantes and Don Quixote at the same time. Pay attention to how one turns to the other. This is the point of the musical," said Won. For more information, call 1588-5212.
Chicago
Korean female pop singer Ok Ju-hyeon made her name as a musical star last year by playing the part of Roxie Hart. "Chicago" stars Choi Jung-won and Kim Ji-hyun as Velma Kelly, and Ok Ju-hyeon and Bae Hae-seon as Roxie Hart. This line-up is the best of the best. For Billy Flynn, Nam Kyung-ju and Seong Ki-yun were double-cast. For more information, call 1544-1555.
Gambler
Set in New York, it tells the story of the lives of gamblers. The fact that Korean musical big names Heo Jun-ho, Jeon Su-gyeong, Bae Hae-seon and Lee Geon-myeong perform on stage is enough to draw audiences. However, the music is also outstanding. Park Byeong-seong, chief editor of "The Musical" said, "'The Golden Key' and 'Limenight,' written by Eric Woolfson, a member of the Alan Parsons Project, are excellent pieces that will go down in musical history." For more information, call 02-577-1987.
Thrill Me
Thrill Me is a rare thriller-musical based on the true story of two men who murdered a young boy in 1924. Its uniqueness involving homosexuality, mystery, and murder has attracted a large audience. But it does not qualify for a family musical. "It has a well-organized plot just like black-and-white thriller movies in the 1930s and 1940s," said musical critic Cho Yong-sin. For more information, call 02-577-1987.
Hedwig
When it debuted in 2005, "sizzling" stage settings, the theme of homosexuality, and the cast consisting of handsome stars like Cho Seung-woo, Lee Seok-jun, and Song Chang-ui, made Hedwig a splash. It received high marks in entertainment. This year, Kim Da-hyeon, Song Yong-jin, and Lee Ju-kwang will appear on the stage. Performance columnist Kong Yeon-suk said, "It has all the elements of entertainment including rock music, which is usually only heard in rock concerts, and the provocative material of transgender. It will refresh audiences in the summer heat." For more information, call 02-501-7888.
polaris@donga.com