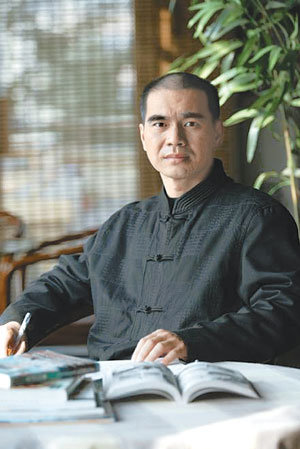 "If you show the uniqueness of Korean comics in a natural way, the Chinese will warm to them."
Well-known Chinese cartoonist Chenweidong (37) arrived in Korea on August 15 to participate in the 10th Bucheon International Comics Festival (August 16 to 19). He is a delegate of the Chinese comics-creating company as well as a cartoonist of over 300 comics under the pseudonym "Chonin."
He is currently leading the "New-Chinese Comics" movement that strives to re-interpret Chinese history or traditional culture with a modern outlook. Speaking on August 16 at the Koryo Hotel in Bucheon, Gyeonggi, he said, "Because of the Cultural Revolution our culture is being eroded, and adding to this is the fact that the uniqueness of Chinese comics is fading because of the rapid input of western culture. Since 2004 I've been gathering artists and creating comics that use history and tradition as subject matter."
Recently in Outlaws of the Marsh, he is creating four series of Chinese masterpieces in a total of 80 episodes. Outlaws of the Marsh will be published in Korea in late August, and is expected to be translated into Japanese, English, and Spanish.
On historical problems such as Chinese historians trying to transfer Goguryeo history into its own, Chen says, "We must not one-sidedly impose our culture on others like Japan or the U.S. We will deal with Chinese history in a way that does not offend."
Right now domestic comics make up for about half of the Chinese comics market. A few years back Japanese comics were incomparable, but domestic comics are quickly catching up. He informed us that famous comics magazines are being issued by the millions monthly, and 1.5 million popular publications are being sold. There is no doubt that this situation will break new ground for Korean cartoonists.
"Funny comics are enjoyed in China. The Chinese are under enormous stress because of the rapidly growing economy. Japanese comics are lyrical and have a subdued flow, whereas Chinese cartoons have strong humor but a weak flow. Korean comics are active and have a unique punch. Instead of a 'Korean comics are better than Chinese comics' approach, Korean comics should just show their uniqueness naturally."
zozo@donga.com