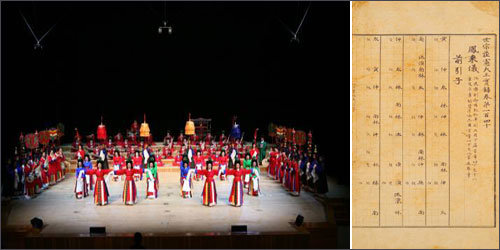 To Be Performed on Feb. 23 and 24 at NCKTPA –
"Bongraeui – Come, Phoenix" to be performed at the Yeakdang of the National Center for Korean Traditional Performing Arts attempts to revive old music played at the time of King Sejong the Great, 500 years ago.
"Yongbieocheonga (Songs of Flying Dragons through the Heavens)" written in 1445, Sejong 27, is a long epic eulogizing the founding of the Joseon Dynasty and written in Hunminjeongeum (the Korean alphabet created by King Sejong). The second chapter, printed beside King Sejong on the newly issued 10,000-won note, is a literary masterpiece showcasing the beauty of Hangeul.
Song In-kil, former director of the center's classical music performing group, explained, "King Sejong took the lead in putting music, including Hyangak and Dangak, in good order to lay a foundation for the country. Bongraeui, composed of performing, singing and dancing to Yongbieocheonga, is a masterpiece which was the turning point in the history of our classical music."
Bongraeui is also a "court jeongjae (songs and dance used at a court play)" with a unique form composed of "Chihwapyeong" and "Chwipunghyeong," dancing and singing to Yongbieocheonga in Hyangak style, and "Yeominrak" in Dangak style with lyrics translated into Chinese. Its harmony between Hangeul and Chinese letters, Hyangak and Dangak, proclaims the underlying spirit of the Joseon Dynasty.
Reproducing Music and Costumes –
For this reason, Bongraeui was performed whenever there was a crisis. King Kojong ordered it to be performed when he renamed Joseon as Taehan Jeguk. With the music at the time of King Sejong lost, however, it has been performed in the costumes of the later period of Joseon with the scores used at the time of King Kojong.
The center will reproduce the music and costumes used at the time of King Sejong based on "Akhak Kwebeom (Standards of Musical Science)" and the scores in the "Sejong Sillok," a section of "Joseonwangjo Sillok."
Kim Han-seung, the current director, said, "Jeongganbo, a musical score created by King Sejong, is the first using measures in Asia to express the pitch and time of music. We were able to reproduce it as it was performed at that time using the scientific musical score."
Kim Jong-soo, senior researcher at the Seoul National University Kyujanggak Institute for Korean Studies, said, "Joseon's ideal was to rule not with law or politics, but with decorum and music to build on people's values and good nature. We should expand the horizon of Gugak by restoring and recreating our traditional music with scores handed down."
Bongraeui is scheduled to be performed at 7:30 p.m., Feb. 23 and at 5:00 p.m., Feb. 24. Tickets are 10,000 to 30,000 won. For any inquiries, call 02-580-3333.
raphy@donga.com