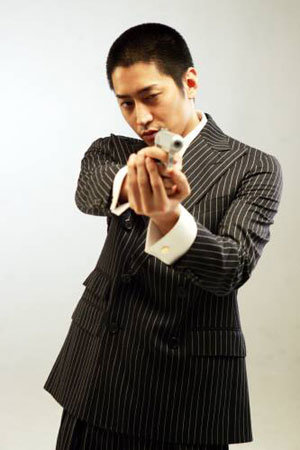 Moon Jeong-hyeok Chooses Interesting Roles –
Moon Jeong-hyeok is a member of "Shinhwa," a music group of six boys. Known more as Eric, his singer name, he is now reshaping his career as a TV actor in his 8th year in the entertainment world. His different roles in MBC dramas, "Firebird" (2004) and "Super Rookie," (2005) received different reviews.
"Seo Jeong-min's character in 'Firebird' was so different from me. It was difficult for me to pose and act like a chic man. I think that's why my acting looked so awkward."
Moon's Choi Kang character in "Invincible Parachutist" is similar to his Kang Ho character in "Super Rookie"—a tough unemployed man with an embarrassing sense of humor. The production team hesitated to cast him because Shinhwa's Asia tour schedule overlaps with the drama schedule, but he implored them to cast him.
"Kang Ho and Choi Kang are full of fun and blunders. They are just me. Their unfitting but frank action is like me when I am with members of Shinhwa, friends, or my family."
Moon chooses roles by the standard of how "interesting" they are. "Super Rookie" and "Invincible Parachutist" are dramas with cartoon-like exciting stories.
"I like cartoons a lot. I like a drama with unrealistic nonsense stories and characters. I'm acting with excitement as if I read a cartoon."
Injury and Misunderstandings–
Moon was injured during the shooting of "Wolf," an MBC TV drama, early this year. In shooting a scene in which he should protect Han Ji-min from a rushing car, both of them were hit by the car. The drama was pulled off only after four episodes.
"It took a long while to recover from the injury. I haven't fully recovered yet, so I had to start working out in the gym two weeks before beginning this drama. I'm eating lunch meals packed by my mother to nourish my body."
There was a double contract debate. Moon was criticized as "irresponsible" for his decision to take part in "Sweet Guy," a drama planned by Opus 101, and "Invincible Parachutist" about the same time.
"I read a draft of 'Sweet Guy' in early May and said, 'Looks interesting.' I asked them to send me the script and their schedule until August 10, but there was no reply. I then decided to take part in 'Invincible Parachutist.'"
Moon cut his hair short to transform himself into Choi Kang character. He has not had this short hair style since Shinhwa's second album. His role in the drama is a "parachutist," but his eyes are twinkling with passion for acting.
surreal@donga.com