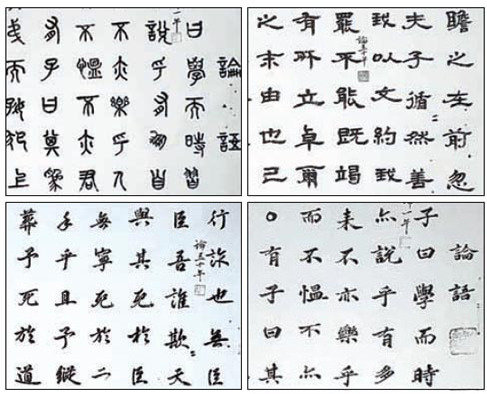 A work that made Analects of Confucius into all four script styles has been published. The work has been done by Moon Young-oh, calligrapher and emeritus professor at Dongduk Women's University, for nine years.
"The work completed in four script styles is the first and only one not only in Korea but also in China," Moon said Tuesday. "I wrote it in order according to the evolution history of calligraphy." He started the work in January 2008, and it look nine years to complete, each taking 25 months, 36 months, 20 months and 18 months, respectively.
Analects of Confucius have 16,000 letters. Moon's work has 64,000 letters. If the work is connected, it is 370 meters long.
Moon studied under Kim Eung-hyun, a renowned calligrapher who passed away in 2007. Former dean at Dongduk Women's University Grade School, Moon was awarded the first Gosan Literary Award in 2001 when he completed 5,300-letter-Tao Te Ching in square character style.
Won-Mo Yu onemore@donga.com