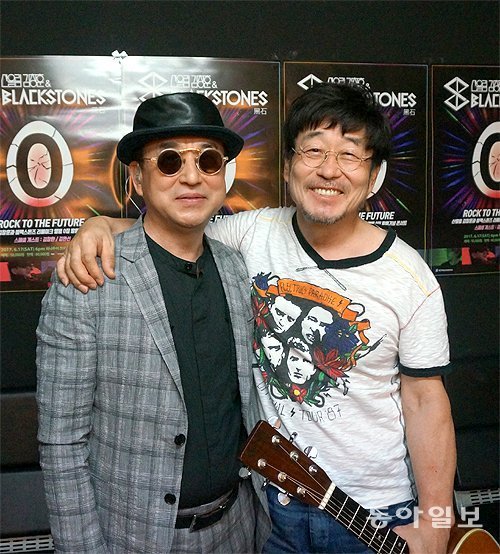 "Kim Chang-hoon and Black Stones" debut album concert was held Saturday at Hanatour V-hall in Hongik-ro, Mapo-gu, Seoul. Black Stones is a group formed by Kim Chang-hoon (aged 61), a member of Sanulrim, a group of three brothers.
This year marks 40th anniversary of Sanulrim that has left a very deep trace in Korea's popular music history. The absence of the youngest brother Kim Chang-ik (1958∼2008) disbanded the group indefinitely. Kim Chang-wan made Kim Chang-wan Band in 2008. Kim Chang-hoon worked in the U.S. before coming back to music and released his 4th solo album "Hojeobmong." He came back to Korea early this year to create "Black Stones."
They never stood together on the stage. They gave the space to each other on the front of music as well. While Kim Chang-hoon played rock music, Kim Chang-wan sang quietly, playing an acoustic guitar. I broke into the waiting room. Only then the two brothers came into one sight of mine.
It has been long since the two brothers came onto the stage together. "The Sanulrim concert in the U.S. in 2007 was the last one," said Kim Chang-hoon. "If Black Stones that set sail today goes into the deep sea then it can be together with Kim Chang-wan Band." Black Stones is named after Heukseok-dong (meaning black stone) in Seoul, where three brothers spent their childhood.
"I cannot celebrate (40th anniversary) because it shouldn't be the moment of recalling a sad memory (death of Kim Chang-ik)," said Kim Cang-wan. "However, it is beautiful if the two of us sing in one voice so I wouldn't say no to it if there is a chance."
imi@donga.com