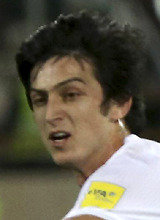 Iran, a Group A team in the Asian qualifying round for the 2018 World Cup in Russia along with South Korea, has confirmed its advance to the World Cup finals.
Iran won 2-0 the eighth match of the Asian qualifying round against Uzbekistan that took place at Azadi Stadium in Teheran, Iran on Tuesday. Iran, which remains atop with a score point of 20 (six wins and two draws) with two games still to go to the final qualifiers, has secured at least No. 2 ranking in the group irrespective of the outcome of the remaining games. The score difference between Iran and Uzbekistan (score point of 12), which is ranked third in the group, is eight. The frontrunner and the runner-up in respective groups in the final qualifying round advance to the World Cup finals. The two teams that are ranked third in respective groups will hold a playoff match, and the winner will play a playoff with the fourth-ranked team of the North and Central America regions, before the winner of these two teams advances to the World Cup finals.
South Korea, which ranks second in the group, will play an away match against Qatar on Wednesday morning, before games against Iran and Uzbekistan.
South Korea will invite Iran to its own turf to play its ninth match (August 31) of the final qualifying round. South Korea was lagging behind Iran in previous A matches with nine wins, seven draws and 13 losses. Team South Korea has lost four consecutive matches since its winning 1-0 in the round of eight teams at the Asian Cup in 2011. In the fourth match of the final qualifying round against Iran for the Russian World Cup held in October last year, South Korea lost 0-1 after playing a pitiful game in which it only had one shot during the entire match. It is an advantage for South Korea that Iran's ace striker Sardar Azmoun (22), who scored a goal in the game against Uzbekistan, will not play in the ninth match against South Korea due to his accumulated violations. Azmoun, who has capability to score goals, had a goal in the fourth match of the final qualifying round against South Korea as well.
Yun-Cheol Jeong trigger@donga.com