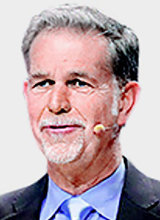 Reed Hastings, who transformed his DVD rental business into the world's No. 1 over-the-top (OTT) service Netflix, is stepping down as CEO 25 years after founding the company. "Even founders need to evolve," Hastings commented on the reason for his departure, saying he will stay on to continue his role as chairman and in philanthropy.
"I have witnessed that Netflix can continue growth despite many difficulties recently," Hastings said in a statement on Friday. "The board and I believe it's the right time to complete my succession."
Hastings plans to focus on investment in philanthropic activities and management of Netflix stock while serving as a bridge between its board and the incoming CEOs.
Netflix has appointed its COO Greg Peters as the new co-CEO, with Ted Sarandos also serving as co-CEO.
namduck2@donga.com