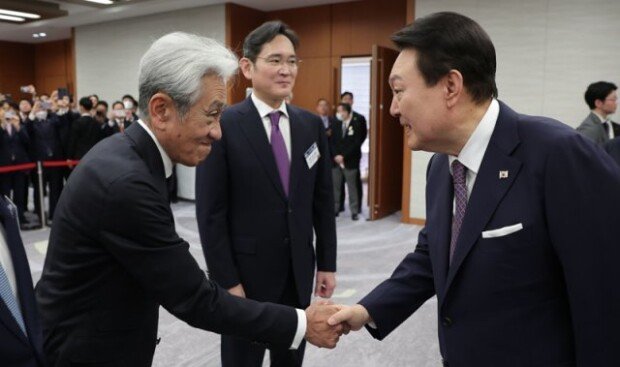 After the summit meeting between South President Yoon Suk Yeol and Japanese Prime Minister Fumio Kishida, where they agreed to expand economic and security cooperation, they are now taking the cooperation to the next level by vowing to stabilize the supply chain of high-tech industries such as semiconductors, batteries, and electric vehicles and carry out digital transformation. With the announcement of a solution for victims of forced labor during the Japanese colonial period in Korea, cooperation in high-tech industries between the two countries has begun in earnest. Observations are made on how sincerely Prime Minister Kishida and the defendant companies will respond to the issue of apology and remorse, and compensation and contribution for victims of forced labor has become a key variable in restoring Korea-Japan relations in the future.
On Friday, President Yoon attended a Korea-Japan business roundtable hosted by the Federation of Korean Industries (FKI) and the Japan Business Federation (KEIDANREN) at the Keidanren Hall in Tokyo. "The two countries are committed to collaborating and addressing various global agendas such as supply chain, climate change, advanced science and technology, and economic security issues," President Yoon said. "There is much room for cooperation in future high-tech new growth industries such as digital transformation, semiconductors, batteries, and electric vehicles (EVs)."
"The governments of the two countries will spare no support so that businesses of both countries can freely exchange and create innovative business opportunities," the South Korean president added. Yoon's remarks illustrate his commitment to working with Japan as well as the U.S. in reorganizing the global supply chain for semiconductors, batteries, and EVs. It is the first time in 14 years that a South Korean president has attended an event for Korean and Japanese businesses since the Korea-Japan Businessmen Conference held during then-President Lee Myung-bak's visit to Japan in June 2009.
While President Yoon is committed to normalizing South Korea-Japan relations 10 months after taking office, there are mixed domestic public opinions on the gains and losses of the summit. In preparation for the summit, the Korean government is reported to have requested Prime Minister Kishida to mention "deep remorse and heartfelt apology for colonial rule," which was included in the 1998 Declaration of South Korean President Kim Dae-jung and Japanese Prime Minister Keizo Obuchi. In addition, the two leaders discussed announcing a message during Yoon's visit that the defendant companies would participate in the FKI and KEIDANREN-financed Future Partnership Fund. However, neither of these two pending issues was raised by Japan. Some point out that President Yoon can ask for public opinion only after Prime Minister Kishida makes progress beyond apology and remorse during his visit to Korea or after the defendant companies participate in the Future Partnership Fund. Regarding these issues, an official from the South Korean presidential office avoided an immediate answer, saying, "This meeting and discussion are not the end, but the beginning." Kyodo News and NHK reported that Prime Minister Kishida conveyed his intention to invite President Yoon to the G7 meeting in Hiroshima in May.
Kwan-Seok Jang jks@donga.com