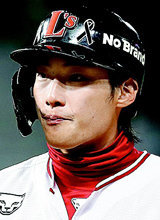 "I was very surprised at the decision. I will do my best with a new sense of responsibility," said Choi Ji-hoon (age 23, SSG, photo) after hearing the news of being chosen to join Korea's national team for the 2023 World Baseball Classic (WBC) series while training in Florida.
"Choi Ji-man (age 32, Pittsburg) was unable to join the WBC due to opposition from his team. We picked Choi to take his place," said the Korean Baseball Organization. Pittsburg, who traded in Choi after the end of the season, opposed the idea of him playing in the series out of concerns about his elbow injury, which was accepted by the WBC Committee. Choi underwent surgery in November to remove a bone chip in his right elbow.
"Choi is an outstanding player capable of defensive substitution. Oh Jae-il (age 37, Samsung) and Chae Eun-seong (age 33, Hanwha) were considered as substitute candidates, but I felt that we needed a more strategic player than a first baseman," said Chairman Cho Beom-hyun of the KBO, who oversees player selection for WBC. He explained his decision to deploy outfielder Choi Ji-hoon to replace first baseman Choi Ji-man.
Choi's joining the WBC was also impacted by Park Byeong-ho (age 37, KT)'s faster-than-expected recovery. Chairman Cho had chosen three first basemen because he wasn't sure that Park could play as defense, but Park's condition has fully recovered. KBO will be submitting the final entry, including Choi, to the WBC on Wednesday to the WBC Committee.
Choi was chosen for the national team under 23 years in 2018 and 2019 when attending Dongkuk University, but this will be the first time for Choi to play on the national team consisting of professional players. "I will step up my pace from tomorrow to prepare myself for the start of the series (March 8)," said Choi. He is training in the spring camp ahead of the upcoming season, which opens on April 1.
Bo-Mi Im bom@donga.com