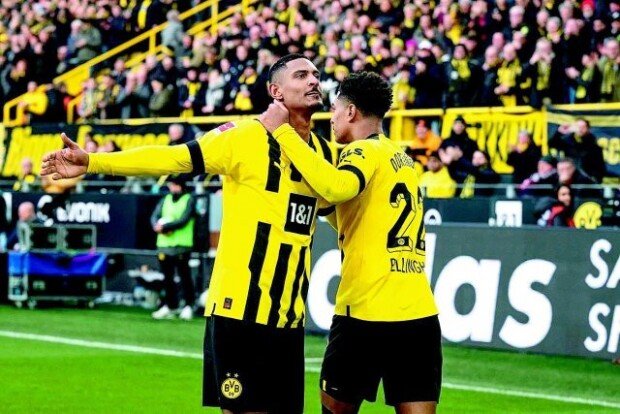 Sébastien Haller of Borussia Dortmund scored a comeback goal on World Cancer Day after overcoming testicular cancer.
Haller scored a header goal in the 6th minute of the second half, giving Borussia Dortmund a 2-1 lead in their 2022-2023 Bundesliga home game against Freiburg on Saturday (local time). He celebrated with an uppercut gesture and was surrounded by his joyful teammates.
The Cote d'Ivoire national team player transferred to Borussia Dortmund for a transfer fee of 31 million euros (approximately 41.8 billion won) in July 2022. He had previously played for Eintracht Frankfurt (Germany), West Ham United FC (England), and AFC Ajax (the Netherlands). He was expected to fill the void left by Erling Haaland's move to Manchester City F.C. (England).
Before the start of the season, he was diagnosed with a malignant tumor in his testicles during a team physical checkup. He underwent four rounds of chemotherapy and two surgeries. He attended the Ballon d'Or ceremony in October last year with a shaved head and no beard, likely due to chemotherapy. After a long battle with illness, Haller returned to play for Borussia Dortmund on Jan. 22 in the match against FC Augsburg and scored his first goal for the team in his third game back. After scoring, he stated, "I have been waiting for this moment since the day I was diagnosed. When I scored, it felt like the stadium was on fire."
Dong-Wook Kim creating@donga.com