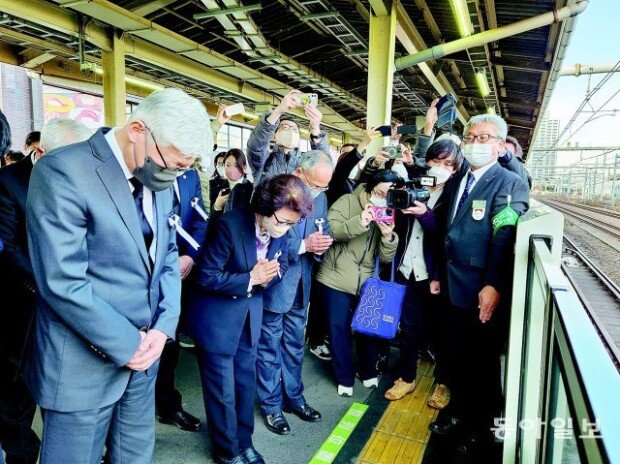 A mother with tearful eyes visited Shin Okubo Station in Tokyo, where her son was sacrificed more than two decades ago. She could never stop sobbing at the thought of her son having been found dead on that cold day 22 years ago after failing to rescue a drunken Japanese man who had tripped off the platform. "It's been years since I visited here last time. It looks bustling and crowded as it was before," she said, adding that she felt bad when once told that few people had visited Tokyo's Koreatown for a while.
The 22nd memorial ceremony was held to commemorate Lee Su-hyun, a South Korean man studying in Tokyo who died on Jan. 26, 2001 at Shin Okubo Station. He did not hesitate to throw himself off the station platform to save a drunk stranger. Back then, his sacrifice resonated with both South Korea and Japan.
Shin Yoon-chan, Lee's mother, returned to Tokyo in three years to attend the memorial ceremony. She had not been able to visit Japan due to the COVID-19 pandemic. She commented that her son wrote that he would like to contribute to the friendship between the two countries. "Su-hyun is not just my boy. Indeed, he has turned into the symbol of the amicable relationship between Seoul and Tokyo," she remarked. South Korean Ambassador to Japan Yun Duk-min, LSH Asia Scholarship Foundation Chairman Yoshinori Katori, and other guests laid flowers and paid a silent tribute to the hero in front of a memorial bronze plaque placed at the station.
Built based on 100 million won donated by Lee's parents, the foundation has awarded scholarships to more than one thousand Asian students studying in Japan. Many books and films have been released to commemorate Lee's spirits. This month, a unique documentary film produced by NHK featured those who showed great bravery amid crises and highlighted Lee's righteous and selfless acts.
"I could only imagine that my son might have been busy and energetic just like those lively students," Lee's mother said in a calm tone on the hectic streets of Shinokubo crowded with young people passing by.
"I always remember that South Korea and Japan are supposed to stay close and friendly, as my son would say," the mother said. "I appreciate everyone for commemorating and remembering my son. I hope to help promote the bilateral relationship between the two countries."
sanghun@donga.com