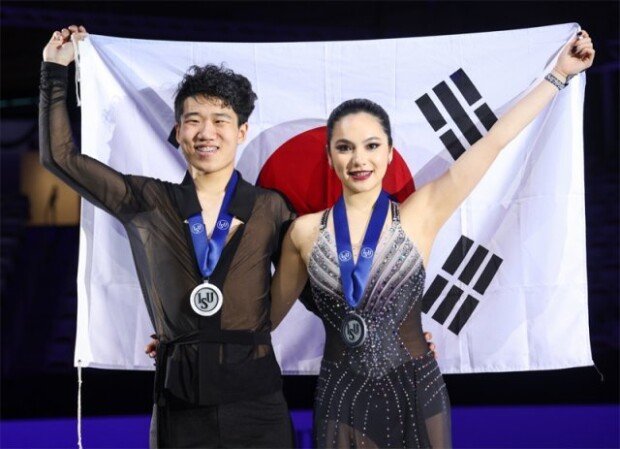 Every step taken by Lim Hannah and her partner Ye Quan presents a new adventure of South Korean ice dancing. The duo became the first Asians to win a World Junior Championships medal in history.
The team earned a silver with a record of 174.39 points at the ISU World Junior Figure Skating Championships that ended in Calgary, Canada, on Sunday. Scoring 177.36 points, only Katerina Mrazkova and Daniel Mrazek of the Czech Republic outcompeted Lim and Quan among the 30 participating teams.
The Lim-Quan team recorded a new high, earning 71.08 points in the rhythm dance competition on Saturday. The duo made its best record of 103.31 points in free dancing on Sunday. It is no surprise that the total score was recorded as the team's highest. However, they ended up being defeated by the Mrazkova-Mrazek team ranking first in both rhythm dancing (71.19) and free dancing (106.17).
Born in Canada to South Korean parents, Lim started dancing with Quan, a Chinese Canadian skater, in the 2021-2022 season to represent South Korea. They gained the bronze medal in the 2021-2022 Junior Grand Prix, becoming the first South Korean medalists. More impressively, they became the first Asian champion at the 2022-23 ISU Junior Grand Prix Series. Added to this, this Asian team even earned the first medal at the ISU World Junior Figure Skating Championships.
Lim and Quan are required to make a senior debut next season when Quan, born on Oct. 15, 2001, cannot play in the junior league anymore. Lim said she was proud of working hard from start to finish throughout this season and was happy to get South Korea's first medal in history.
Bo-Mi Im bom@donga.com