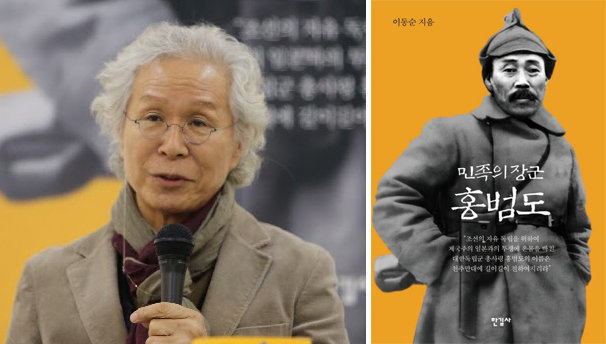 It was near Cheongsan-ri of the mountainous region of Mount Baekdu in October 1920 when the D-day of the Korean Independence Army and the Japanese Army happened. Allied forces including the Korean Independence Army convened for an emergency meeting. The majority had been in favor of promoting a defensive position against the Japanese. Gen. Hong Beom-do (1868-1943), who led the troops, suggested: "take advantage of the topography near Cheongsan-ri to strike a surprise attack against the enemy." His proposal was chosen, and the Korean Independence Army won the battle.
The above is an excerpt from the book "General of the People Hong Beom-do (published by Hangil-sa)," written by poet Lee Dong-soon (age 73), to be published on Wednesday in commemoration of the general's death 80 years ago. Lee has been collecting historical materials related to Gen. Hong since 1982. "It is an honor to place this book, which captures General Hong's narrative, on his grave after 41 years of research," said Lee in a press conference on Wednesday. The book, which is 840 pages long, is a fiction-based biography that depicts Hong's birth and death on October 25, 1943 in Kazakhstan.
Lee, who debuted as a poet at the annual spring literary contest hosted by The Dong-A Ilbo in 1973, grew up listening to stories from his grandfather, the independence fighter Lee Myeong-gyun (1864-1923). He was determined to write stories of those who devoted their lives to the independence movement, as his grandfather had done. He thought of General Hong. "My life-long goal was to shed light on General Hong's contribution to the history of Korea's independence movement," said Lee.
Lee used the Hong Beom-do Diary (an oral-based excerpt collection recorded by a local Korean playwright when Hong resided in Kazakhstan) to publish a 10-book epic series titled "Hong Beom-do" in 2003. "A simple record of real events would tell events. This is an attempt to depict Hong's life in three-dimension," Lee said. "I will write new stories upon finding new materials about Gen. Hong."
Gen. Hong lived in the Maritime Province of Siberia after the Cheongsan-ri battle in 1920 but was forced to relocate to Kazakhstan, where he lived until his death, in 1937 due to Stalin's deportation policy. Remains of Hong, which had been at the Kyzylorda cemetery in Kazakhstan, were returned to Korea on Aug. 15, 2021, the 78th year in commemoration of his death and received at the Daejeon National Cemetery.
always99@donga.com