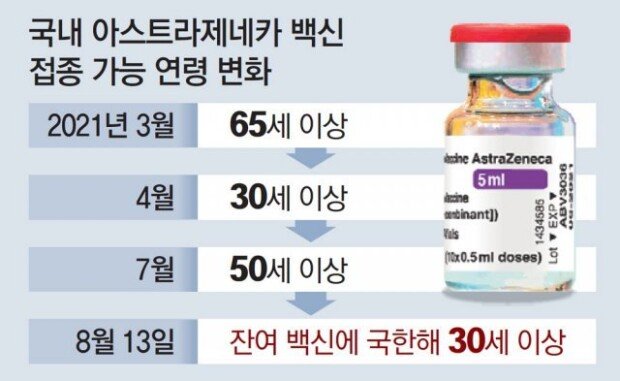 The South Korean government has changed its guidelines for COVID-19 vaccination to allow people in their 30s and 40s to take residual doses of the AstraZeneca vaccine. The age criteria for the vaccine, which started to be used in Korea in February, has changed for a third time, raising concern over its safety.
"We will start administering residual doses of the AstraZeneca vaccine for people in their 30s and older who want the vaccine from Friday," the government's Covid-19 vaccination taskforce told a media briefing on Friday. Previously, the AstraZeneca vaccine was allowed only for people in their 50s and older due to concern over possible blood clotting. However, as more doses of the AstraZeneca vaccine have been discarded recently due to a rising vaccination rate in the elderly, the government has changed its guidelines.
In April this year, the threshold age for the vaccine changed from 65 to 30. The age was again raised to 50 in July, but has been lowered to 30 this time, with the recommendation to use the vaccine in people ages 50 and older remaining intact.
There are no studies on the safety of the AstraZeneca vaccine used in people in their 30s and 40s just yet. "Since Korea is undergoing the fourth wave of the COVID-19 pandemic, the measure has been taken to increase vaccination speed," Korea Disease Control and Prevention Agency commissioner Jeong Eun-kyung said. "Of the 12.69 million doses of the AstraZeneca vaccine administered in Korea, only three cases of Thrombosis with thrombocytopenia syndrome (TTS) have been confirmed."
The government finalized on Friday a contract to purchase 30 million doses of the Pfizer vaccine, which will be delivered in the first quarter of next year. Also, 400,000 doses of the Janssen vaccine, which have been provided by the U.S. government, will be arriving at Incheon International Airport on Sunday, and started to be used to immunize prison inmates and others from August 23. As COVID-19 has continued to spread, the government on Friday issued an administrative order to put in place additional 765 hospital beds in the Seoul metropolitan region.
ksy@donga.com