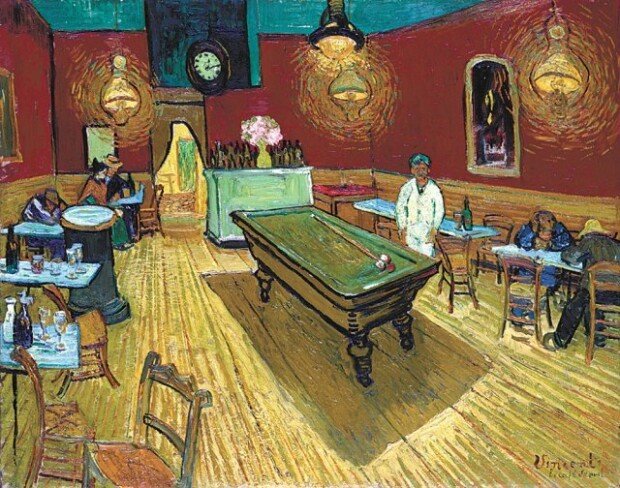 Cafes are places for encounters, rest and networking. As many Impressionist painters had done, Vincent van Gogh created many paintings of cafes. The café in this painting, however, does not appear as a venue for social networking at all. It appears dark and solitary. Why did van Gogh portray the café this way?
The café shown in the painting is the same place where van Gogh stayed for several months in the southern French town of Arles. He spent three nights up capturing the melancholy atmosphere of the café. He drew the indoors from a slightly descending view where bright colors depicted by yellow ceilings, red walls and yellow gas lights clashed each other. Though it's past midnight, there are still people in the café. The owner dressed in white stands next to the pool table and the two men seated on the table on the right are asleep and drunk. The couple in the back are drinking together with their bodies close together. The man in front of them, drunk and alone, appears to spend the night here as well. The café, where people who did not have money to spend in inns or prostitutes lingered, was actually called "Café Terrace at Night." Van Gogh depicted the place where bums went to rest. He used to drink Absinthe, a hard liquor that triggers hallucinations when consumed in excess, drank much coffee and smoked. At times he would run out of money and lived purely on 23 cups of coffee for four days. Perhaps that was why he viewed cafes as places that destroyed people, drove them crazy or commit crimes.  
Van Gogh once explained that he wanted to highlight the faint yellowness, melancholy and hell-like atmosphere of a normal café. The café where people from all walks of life with stories of their own: destruction, madness, love, poverty and crime, solitude and depression. In other words, a mirror of the real world.