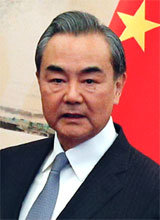 The Chinese government is taking a harder stance after its announcement to impose up to a 25 percent retaliatory tariff on U.S.-made products worth 60 billion dollars starting from the first of June. Although the government has been publicizing a huge potential blow to U.S. imports resulting from a tariff spike, some view it as a strategy to heighten a sense of crisis through a trade dispute with the U.S. to shut off internal criticism and promote solidarity.
According to the Chinese Ministry of Foreign Affairs Tuesday, Chinese State Councilor and Foreign Minister Wang Yi said, "China will always safeguard its sovereignty, Chinese people's interests and national dignity when negotiating with any country," at a press conference held right after a meeting with his Russian counterpart Sergei Lavrov in Sochi, Russia on Monday. "Such principles and parameters will be adhered to," Wang added with emphasis. He also underlined that the negotiation is not a one-way lane but should be carried out on the basis of equality, saying it is impossible to expect one side to readily accept the other's request, in a remark targeted at U.S. President Donald Trump's unilateral actions.
"We're unwilling to fight, but we're not afraid to fight," said a broadcaster of China's state-run CCTV in a series of opinion pieces that lasted from the main new program on Monday evening to the following day. "If the U.S. wants to talk, the door is open; if they want to fight, we'll fight till the end." Xinhua, another Chinese state-run media, also did not hold back, saying that the brazen act of the U.S. must be clearly recognized for what it is.
Voice of China, a state-run propaganda network, released a report noting that the U.S. has experienced a bigger loss than China after the Trump administration has imposed additional tariffs. The Institute of World Economics and Politics under the Chinese Academy of Social Sciences claimed that since the U.S. has imposed tariffs on 250 billion dollars' worth of Chinese goods China has only experienced nine to 10 percent of the related costs incurred while the remaining 90 percent was borne by the U.S. companies and consumers. The International Trade and Economic Cooperation Institute of the Chinese Commerce Ministry also argued that the U.S.' dependency on Chinese products is far greater than China's dependency on the U.S.
South China Morning Post (SCMP) of Hong Kong reported Tuesday that the Chinese government will tighten the review process for foreign companies' entry into China and their investments citing the national security concern despite its promise to open the country's economy to the outside world.
According to SCMP, the National Development and Reform Commission of China is now given an authority to review foreign investments to ensure they are in line with China's economic security. China in March this year has passed a new foreign investment law, which prohibits forcing foreign companies to transfer technology to their Chinese counterparts. With the latest development in the country, however, some predict that retaliatory measures could be taken by Beijing against foreign corporations on the basis of security concerns.
Wan-Jun Yun zeitung@donga.com