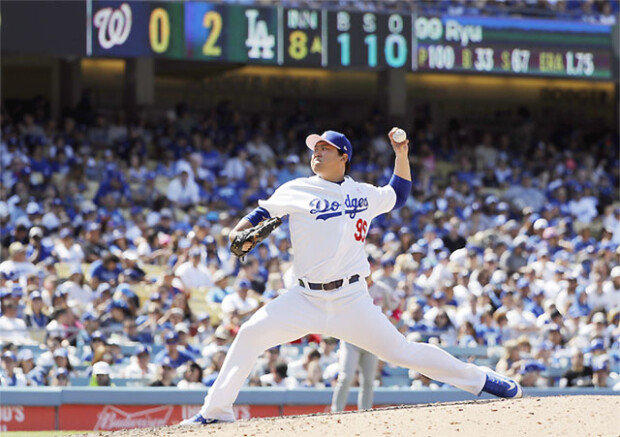 Ryu Hyun-jin, the South Korean pitcher of the Los Angeles Dodgers, offered the best present for his parents on Mother's Day. Having already thrown a complete shutout on last Wednesday, which fell on the South Korean Parents' Day, Ryu threw another no-hitter on Sunday, not allowing any hit or run until the eighth inning. The game put a broad smile on his parents (Park Seung-soon, Ryu Jae-cheon) who visited the Dodger Stadium on that special day.
At the stadium, a special event took place to celebrate Mother's Day. The mothers of the team's main players, including Ryu Hyun-jin, Cody Bellinger, Alex Verdugo, and Austin Barnes, threw the opening balls of the day in front of their sons. The balls were all thrown at the same time and received by the four players. The only exception was Ryu Hyun-jin. His father, Ryu Jae-cheon, showed up on the mound to receive his wife's pitch as Ryu was the starting pitcher of the game. It was the father's consideration to keep him in the zone before the important match.
With Ryu Hyun-jin dominating the mound, his mother, Park Seung-soon, held the limelight until the late game. The cameramen caught her each time when her son allowed the first hit of the game by Gerardo Parra and when she was applauding for her son who left the field in the eighth inning. The commentators mentioned Park many times, calling her "Ryu Hyun-jin's mother."
"I feel great as I've done well for a special day for mothers. My father's birthday is coming up, and I will do my best to catch up," said Ryu Hyun-jin in an interview had after the game.
Bae-Jung Kim wanted@donga.com