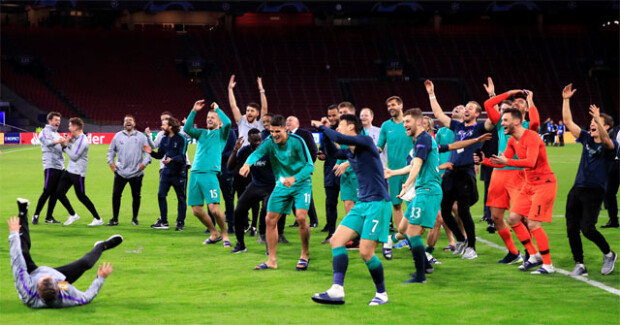 English football club Tottenham FC defeated AFC Ajax by 3-2 in the second leg of the 2018/19 UEFA Champions League semi-final at Johan Cruyff Arena on Thursday in Amsterdam, the Netherlands. With Son Heung-min not on the field due to being red-carded in the previous match, the first leg ended up with Tottenham's loss by 0-1 at Tottenham Hotspur Stadium, making the final scoreboard 3-3. However, Spurs climbed to the final on away goal rule for the first time since its foundation in 1882. The Champions League final is known as the war of stars from European football leagues.
Tottenham has managed to survive on the brink of defeat. It lost two goals in the first half. However, Tottenham's Lucas Moura recorded a hat-trick with one on 10 minutes, another on 14 minutes during the second half and the other on five minutes of stoppage game. Having sung their cheering song with a victory right ahead of their team, Ajax fans were pushed into a sudden silence after the third goal was lost.
Brazilian footballer Moura had played in Paris Saint-Germain FC in the French Football League, Ligue 1 since the 2012-13 season. Then, he moved to Tottenham FC during the 2017-18 season. He has recorded 10 goals in 31 games including seven matches where he was a substitute player in the EPL. He is the third highest goal-maker in Tottenham following Harry Kane with 17 goals and Son Heung-min with 12 goals. Tottenham manager Mauricio Pochettino commented that all the players are heroes and Moura is their super hero.
If Son Heung-min joins the final match, he will become the first Korean football player to fight the UCL final in eight years after former Manchester United player Park Ji-sung. Park played full-time against FC Barcelona in the 2008-09 and 2010-11 seasons' finals, both of which were won by Barça. When Manchester became the final winner in the 2007-08 season, Park was not on the entry list. If Son obtains a goal to lead his team to victory, he will become the first Korean to raise the Champions League Cup in team's uniform while recording a tie with his most goals (21 points) during the season.
Wanda Metropolitano Stadium in Madrid, Spain will serve as a battlefield on June 2 where the final match opens between Tottenham, who led the miracle of Amsterdam in an away game, and Liverpool that achieved miracle of Anfield in a home game.
Seung-Kun Lee why@donga.com