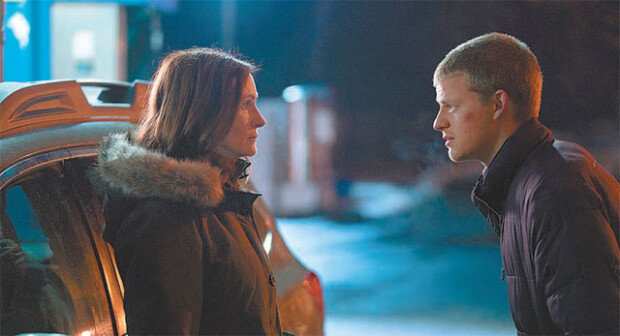 Drug addict Ben (acted by Lucas Hedges) comes back home from a rehab center unexpectedly on a Christmas day, which is supposed to be filled with peace and happiness. His sister and step father, who are scared by him, want him to go back to the rehab immediately. But his mother Holly allows him to stay for 24 hours on condition that he never leaves her sight.
The film "Ben is Back" completes the maternal love Julia Roberts showed in her previous film "Wonder" (2017). In the movie, she managed to express the pain and the struggling of a mother, who raises a son with a facial disorder, with the wrinkles on her face and the sorrow in her eyes. This time, she plays a mother, who never gives up on her drug addict son.
Ben appears to be resolved to get off drugs but strange things happen right after he showed up. The house gets broken into, the Christmas tree is knocked over, and the family's beloved dog goes missing. Holly and Ben look for everywhere to search for the dog. Their journey is almost the same as the process of a normal boy becoming a drug addict.
Stories of people taking anesthetics as a drug and lying about taking methamphetamines often make the headlines these days. Drugs still seem like a distant issue to us but the film shows that people around us can easily fall victim to drug addiction.
Holly witnesses the ugly reality while being with her son for a day: A teacher trading his mother's therapeutic drugs for favors from students, pharmacies selling injection kits, and a drug dealer's base located just across a bridge. She feels infuriated and blames herself after recognizing that her son was a victim of that ugly reality. As if Julia Roberts wants to show the audience that mother is the only one that keeps her son alive, maternal love is the theme that underpins the film.
In his new film, Peter Hedges, writer of "Gilbert Grape (1993)" and "About a Boy (2002)," depicts a story of a family that fell through the cracks of society. The film opens on May 9 and is rated PG-15.
Seo-Hyun Lee baltika7@donga.com