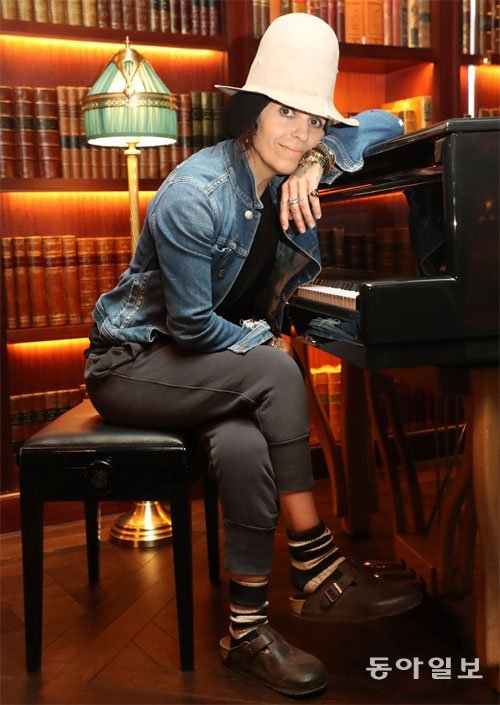 "I was poor since my childhood. I put cheap powdered milk into water and drank it and ate a can of tuna for a meal. I dropped out of school at the eighth grade and left home at 15. Living homeless in parks, I did drugs."
That was how Linda Perry recalled her life during an interview with the Dong-A Ilbo in downtown Seoul on April 22. She said she dreamed of "flying like a phoenix someday from the ashes of my life that was burnt up too quickly."
Her wings were music, and she became a superwoman in the pop music scene. As the lead singer of American rock band 4 Non Blondes, she wrote and sang the 1992 hit song "What's Up." After the band's breakup, she wrote songs for Celine Dion, Ariana Grande and Adel. In February, she was nominated for a Grammy Award in the non-classical producer of the year category. The music video of "What's Up," the beginning of her career, has garnered 720 million views on YouTube.
With just three guitar chords (A-Bm-D), she created the first part of the song which goes, "Twenty-five years and my life is still / Trying to get up that great big hill of hope / For a destination." Perry said she remembered how another band member in the next room jumped out and urged her to sing that again. Several months later, the whole world was singing that song. "It was incredible," she said.
Her conversion to a producer also happened very quickly. While she was playing with digital music software, she added typical American lyrics on getting a party started on a Saturday night, she said. The playful song that took only 20 minutes to write was handed over to a major label and was later completed as pop star P!nk's "Get the Party Started," which reached number four on the U.S. Billboard Hot 100. Perry became one of the most chased songwriters.
Her next client was Christina Aguilera. "Beautiful," which reached No. 2 on Billboard Hot 100, was a song that Perry sang to Aguilera to break the ice when they first met. "When I was singing, 'I am beautiful no matter what they say,' I was perplexed because Christina said she wanted that song," Perry recalled.
From that time, Perry was called "song doctor," which meant that she was a composer who heals pop stars' souls with songs. Perry came to Korea to discuss future collaboration with K-Pop companies. "K-Pop has amazing performances and images. How about it wins the power of songs that transcend time?" she said.
"From Koreans' passion, I see an alternative blueprint for the American music industry. The Rolling Stones and Led Zeppelin are still move the hearts of people around the world," she said. "Who will receive the Grammy Lifetime Achievement Award a few decades from now?"
임희윤기자 imi@donga.com